Looking for a metric by which to calibrate a workforce's technical skills? The SkillsUSA Championships could be meaningful to any company's site selection matrix.
Based in Leesburg, Virginia, SkillsUSA is a student-led partnership of education and industry representing nearly 380,000 career and technical education (CTE) students and teachers from middle schools, high schools and college/postsecondary institutions. Nearly 298,000 members are from the high school level.
An estimated 15,000 students, teachers, education leaders and representatives from 650 national corporations, trade associations, businesses and labor unions were expected to participate in the organization's National Leadership & Skills Conference (NLSC) in Atlanta in June. A highlight of the week is the SkillsUSA Championships, career competition events showcasing the best career and technical education students in the nation. In 2022, there were nearly 5,200 contestants in 108 separate events. This year featured 6,094 contestants in 110 categories, competing for more than 1,250 gold, silver and bronze medals in such disciplines as welding fabrication, diesel equipment technology, CNC 2-, 3- and 5-axis milling programming, digital cinema production, medical terminology and automated manufacturing technology.
A team competes in the SkillsUSA Championships welding fabrication catetory, where the college/postsecondary competition was won by Dallin Cardon, Noah Vergara and Kenneth Bell of Utah State University Eastern.
Over $36 million from industry and education is invested in the SkillsUSA Championships, where the equipment and materials include 2,000 computers, 12,500 bricks and 1,500 blocks, 60+ stoves and ovens, 25+ refrigerators, 100+ welders, 50+ manufacturing machines and complete laboratories for machining, welding, auto repair and painting. The competition area covered the equivalent of 31 football fields or 41 acres. And the event itself was estimated to have a $20 million impact on Atlanta.
So who won? We downloaded all the medalists from the NLSC's results page and sorted by state:
Top 10 States by Medalists at 2023 SkillsUSA
National Leadership and Skills Conference
| State | Medalists |
| --- | --- |
| Texas | 59 |
| North Carolina | 46 |
| Georgia | 44 |
| Tennessee | 42 |
| Oklahoma | 37 |
| Massachusetts | 32 |
| California | 31 |
| Utah | 27 |
| Florida | 23 |
| Pennsylvania | 22 |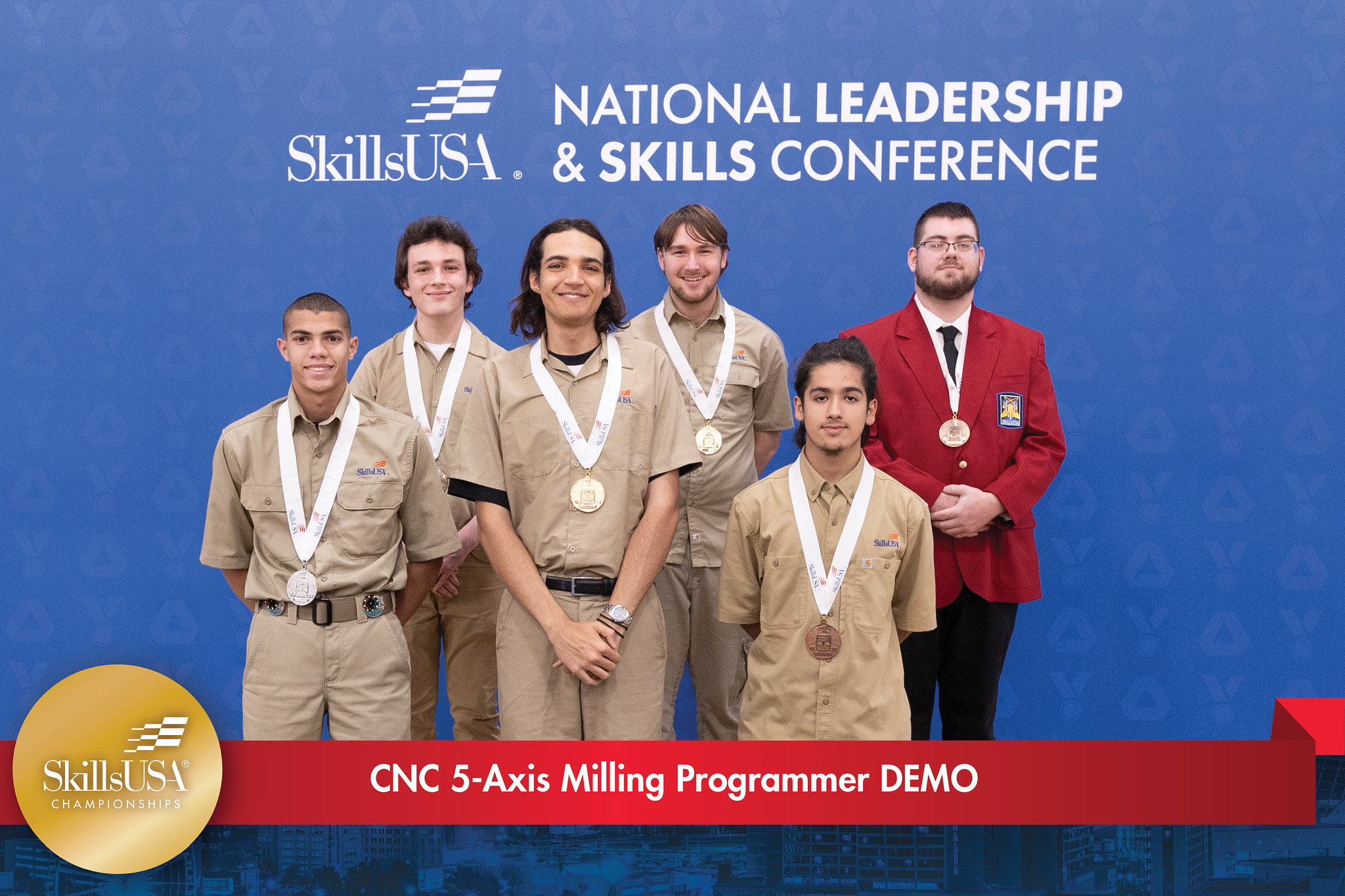 A demonstration competition in CNC 5-axis milling programming featured these high school medalists: Silver-Xavian Gilbert, Pickens County Career and Technology Center (South Carolina); Gold-Thomas Blake, Diman RVTHS (Massachusetts); and Bronze-Noe Diaz, Streamwood High School (Illinois). Back row, l. to r.: College/Postsecondary medalists—Silver-Cody Russell, York Technical College (South Carolina); Gold-Arik Edstrom, Manatee Technical College (Florida); and Bronze-Jacob Golden, Thaddeus Stevens College of Technology (Pennsylvania).
The list of top-performing states hews closely to some recent Site Selection state rankings, with the top five states all in the South and the top three of Texas, North Carolina and Georgia accounting for a number of Governors Cup, Prosperity Cup and Business Climate Rankings victories in the past several years.
CTE leadership in Texas can be traced in part to the work of the Texas Workforce Commission. Among other programs, the TWC has awarded around 335 Jobs and Education for Texas (JET) grants averaging $280,000 apiece. "We have traveled the state doing check signing presentations," confirmed Aaron Demerson, the TWC commissioner representing employers, in an interview earlier this year for the Texas Economic Development Guide. "In rural communities we're seeing students and employers come together, involved in the curriculum, so when those students graduate, if they're not going into a 2-year or 4-year college, they're walking right into a job or career. And they can continue getting an education too."
SkillsUSA exists to further such programs and with them, the individual careers of CTE students. No less a skills champion than Mike Rowe explains in a backgrounder from the organization:
"The thing about SkillsUSA that's so cool, and the reason that my foundation has supported it for years, is that it is deliberately focused on celebrating a skill," Rowe has said. "Three million jobs right now exist in the trades and transportation and commerce. The skills gap is real. Training kids and getting them excited to do the jobs that exist ought to be job one." — Adam Bruns
One region taking CTE skills leadership seriously is Pickens County in rural Upstate South Carolina, where the notion of the Scholar-Technician has been trademarked, and where the Pickens County Career and Technology Center boasts 1,800 students, a waiting list of several hundred, and a bevy of awards.

Photos by author