A number of new reports shed light on where clean energy projects and jobs are landing. The scope of one ongoing database in particular goes well beyond solar and wind farm installation and operation.
In July the Interstate Renewable Energy Council (IREC) released its latest National Solar Jobs Census. Key findings included:
The nation adding 8,846 solar jobs from 2021 to 2022 for a national tally of 263,883 solar workers. About two-thirds of solar jobs (171,558) are at installation and project development firms. Others are in manufacturing (33,400), wholesale trade and distribution, and operations and maintenance.
"The utility-scale solar market lost about 6,000 jobs in 2022, as policy challenges delayed large-scale installations. In contrast, residential solar jobs grew by 11%, or about 9,500 jobs."
Forty-four percent of solar industry employers said it was "very difficult" to find qualified applicants — the highest such percentage ever recorded.
Solar jobs grew in 42 states and Puerto Rico in 2022, with California adding the most with 2,404 jobs added. New York, Texas, Florida, and Massachusetts fill out the top five states in that order. "California also added the most new solar capacity in 2022 (5.1 GW), followed by Texas (3.6 GW) and Florida (1.9 GW)," IREC reports. "Texas not only led the nation in utility-scale solar growth but also saw its best year ever for residential solar." States with high growth rates since 2017 include Illinois (58%), Florida (43%), Virginia (33%), New York (28%), Texas (27%), and Georgia (25%).
"Overall, there were 546,630 workers in renewable energy generation industries including solar, wind, traditional and low-impact hydropower."
Among the reasons cited by the IREC report for the 2022 slowdown was the March 2022 U.S. Department of Commerce circumvention inquiry into solar cells and modules imported from Cambodia, Malaysia, Thailand, and Vietnam. A 24-month moratorium on any tariffs was declared by President Biden in June 2022 as part of the inquiry, which should produce a final decision this month. The Uyghur Forced Labor Prevention Act, enacted in 2021 to prevent the importation of goods made by forced labor in China's Xinjiang Uyghur Autonomous Region, "led to hundreds of equipment detainments that reduced the supply of modules by 18%, further constraining the utility-scale sector," IREC reports.
By contrast, the passage of the Inflation Reduction Act (IRA) is driving growth today. "The National Renewable Energy Laboratory predicts that clean electricity (including nuclear power) could grow from 41% of total generation to 71-90% by 2030, mainly as a result of this new law," IREC says, which extends the Investment Tax Credit (ITC) for the next 10 years; gives solar companies the option to use the Production Tax Credit; extends the residential Investment Tax Credit for 10 years; includes an advanced manufacturing tax credit for the domestic production of solar components; and sets up a $27 billion greenhouse gas reduction fund to finance clean energy projects. Solar firms anticipate 9% employment growth.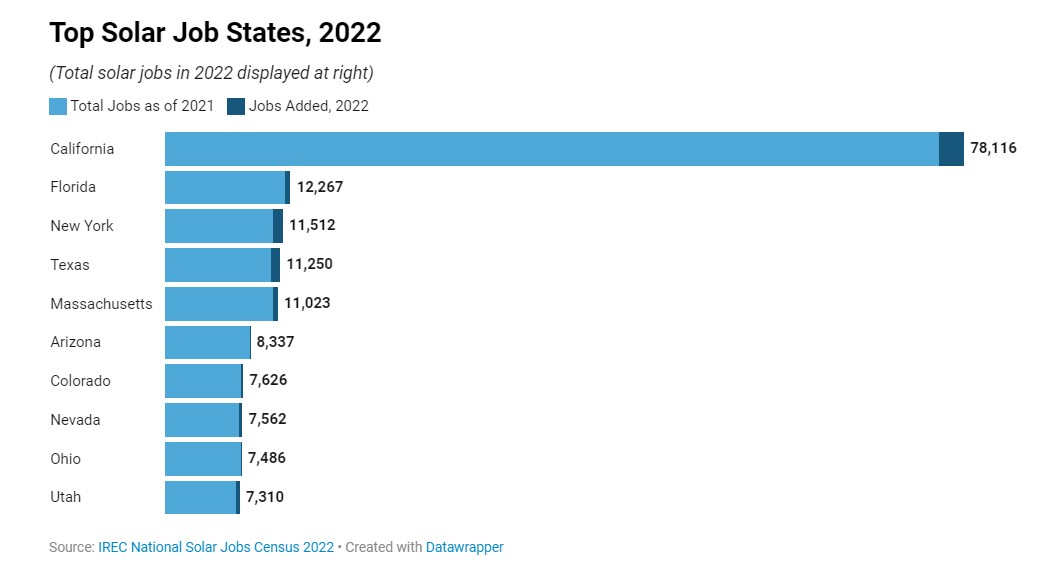 "While much remains uncertain, the solar industry expects total U.S. installations will multiply fivefold in the next 10 years, from 141 GW in 2022 to over 700 GW in 2033," IREC reports. "The Solar Energy Industries Association [SEIA} predicts the total number of solar jobs could more than double, reaching 538,000 by 2032."
Click here to access the SEIA's ongoing inventory of major solar projects, which shows more than 105 GW of large-scale solar projects under construction or in development.
Cleaner & Greener By the Day
A report released this week by the American Clean Power Association (ACP) provides project data to buttress the optimism. ACP says its "Investing in America: The Clean Energy Landscape Today" report finds that "unprecedented federal support has led to the announcement of private investments totaling $271 billion in domestic clean energy projects and manufacturing facilities over the past 12 months. This exceeds the combined clean energy investments made over the previous eight years."
Highlights from the report include public announcements from the past year of:
184,850 MW of new utility-scale clean energy capacity
29,780 new manufacturing jobs
Over $22 billion in manufacturing investment
83 new or expanded utility-scale clean energy manufacturing facilities.
"Manufacturing facilities for utility-scale clean energy components have been announced in districts across the country," ACP states, "and multiple states have announced five or more facilities, including Georgia (7), Tennessee (6), South Carolina (6), Texas (5), and Colorado (5)."
"Investment in clean energy production and manufacturing is surging. New jobs and revenue are bringing opportunity and optimism to rural communities across the country. America's manufacturing centers are competing to meet new clean energy demand with a new domestic wind, solar or storage manufacturing facility announced every four days," said ACP CEO Jason Grumet. "The United States has the technology, human capital, and financial capacity to achieve clean energy dominance. The only question is whether government policy will allow us to build the clean energy infrastructure in time to seize this opportunity."
That means federal permitting reforms that shorten the five to 10 years it can sometimes take to permit a clean energy facility. "It is also imperative that Congress find common ground on transmission policy to ensure that cheap, abundant clean energy can find its way to consumers," says ACP.
Should currently announced manufacturing facilities reach operation, ACP estimates a nearly ninefold increase in solar module production and a more than fifteenfold increase in grid-scale battery storage, along with significant increases in production output for solar cells, polysilicon, ingots and wafers, blades, towers and nacelles.
What's Next for Nextracker?
One model company for the resurgence is Fremont, California–based solar tracker manufacturer Nextracker. Yesterday the company joined electronics component manufacturer Asteelflash/USI to announce the grand opening of Asteelflash's U.S. manufacturing line for Nextracker in its 197,000-sq.-ft. facility in Fremont, California.
Nextracker says it has opened over 10 new U.S. production facilities in the past year with its suppliers. In 2022, the company publicly inaugurated four new steel fabrication lines in Texas, Arizona, Pennsylvania, and Illinois.
As reported in the September 2022 issue of Site Selection, the company also knows how to renew old industrial properties, as it joined with BCI Steel, a Pittsburgh-based steel fabricator, to announce the reopening of the historic Bethlehem Steel manufacturing factory in nearby Leetsdale to produce solar tracker equipment for large-scale solar power plants.
"BCI Steel's Pittsburgh factory enables the quick-ship response times we need to meet booming demand from our customers in the Mid-Atlantic and Heartland regions," said Dan Shugar, CEO and Founder of Nextracker. "This investment will increase the resilience of the U.S. solar supply chain and bring manufacturing jobs, equipment, and capacity back to America."
In May, Nextracker announced another steel tracker factory in Memphis, Tennessee, that will receive millions of dollars of investment and create 129 new jobs.
"We chose Memphis for our first U.S. plant to support Nextracker's utility-scale solar demand across the Southeast," said António Pedro Antunes, CEO of Metalogalva Group. "Memphis has the transportation, infrastructure, and capable workforce necessary to support a solar manufacturing program like this."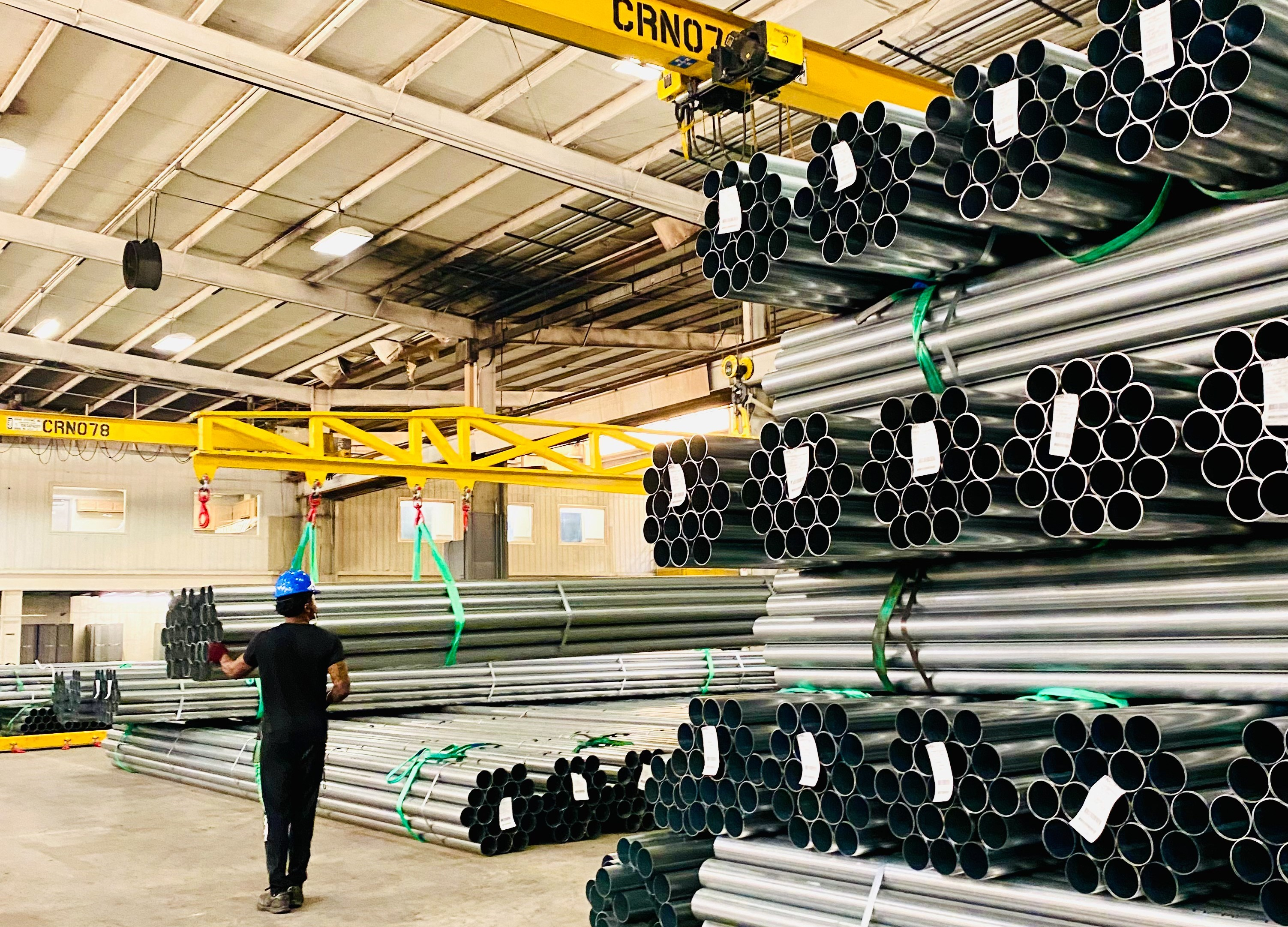 Nextracker and MSS Steel Tubes USA, a joint venture of Metalogalva and Soufer, in May announced the commissioning of a new 129-job factory in Memphis, Tennessee, to manufacture low-carbon steel components for Nextracker's solar tracking systems.
Photo courtesy of Nextracker
The tube mill will feed projects in Kentucky, South Carolina, Virginia, Mississippi, and Georgia. Tennessee-based Silicon Ranch is developing many of those projects, having signed a supply agreement for 1.5 gigawatts with Nextracker last year, and another new 3 gigawatt supply agreement at the announcement in May.
"Nextracker's new Tennessee tube mill not only helps us maintain our 100% track record for successful project delivery but also enables us to support additional investments in American manufacturing while lowering carbon production processes of our supply chain, and reducing volatility and logistics risks, all from our home state," said Reagan Farr, Silicon Ranch Co-Founder and CEO.
Microinverter-based solar and battery systems supplier Enphase Energy — like Nextracker, also based in Fremont, California — in July announced initial shipments of Enphase products produced in Columbia, South Carolina, by global diversified manufacturer Flex. It marks the first production from one of Enphase Energy's three contract manufacturing partnerships in the United States, driven in part, says the company, by the Inflation Reduction Act
"Enphase shares our commitment to accelerating the world's transition to clean energy through advanced technology and strategic regional manufacturing," said Revathi Advaithi, CEO of Flex. "We thank Enphase for their 15-year partnership to deliver their IQ Microinverters to market faster and at scale globally with reliable, sustainable business practices. We also thank President Biden and the U.S. Congress for the Inflation Reduction Act, which has increased interest and demand for clean technology and American manufacturing, as evidenced by today's announcement with Enphase."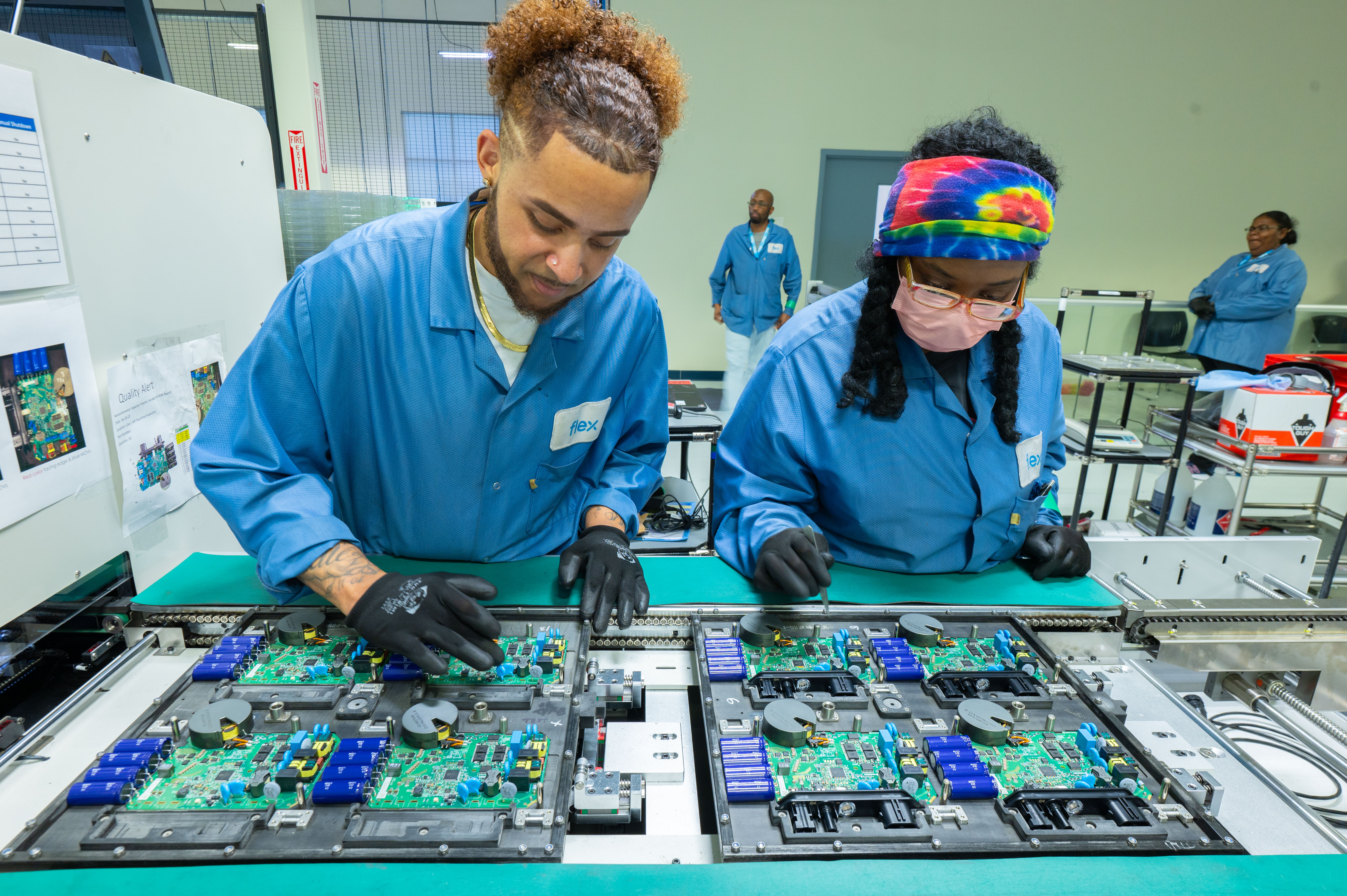 Columbia, South Carolina–based Flex began shipping microinverters in July as part of a 15-year agreement with California-based Enphase Energy.
Photo courtesy of Flex