Companies are diversifying their Asian location portfolios beyond China. Rich folks are getting out of China. But automation in China is rising at a record rate.
The annual member survey released by the US-China Business Council (USCBC) in September revealed that while China remains a top-five market for 74% of them, only 49% expressed an "optimistic" or "somewhat optimistic" outlook about the future.
"Our members overwhelmingly report that ongoing tension between the U.S. and China, among other factors, has caused increased uncertainty in the policy environment, leading to missed sales opportunities and delayed or canceled investments," said USCBC President Craig Allen. "While most of our companies remain profitable in China and are committed to operating there, many are adjusting their businesses in China and taking a more cautious approach to new investments." (For more on this topic, watch for analysis by Tractus co-founders John Evans and Dennis Meseroll in the November issue of Site Selection.)
The annual private wealth migration report released by Henley & Partners over the summer shows no nation is losing high-net-worth individuals at a higher rate than the People's Republic of China. A total of 10,800 such people left the premises in 2022, and that number is expected to reach 13,500 this year.
But there's one arena where China is still a No. 1 destination: robots.
The World Robotics report released by the International Federation of Robotics (IFR) in late September reports that 73% of the 553,052 robot installations in the world in 2022 were in Asia — and 290,258 units (52% % of the global total) were installed in China alone.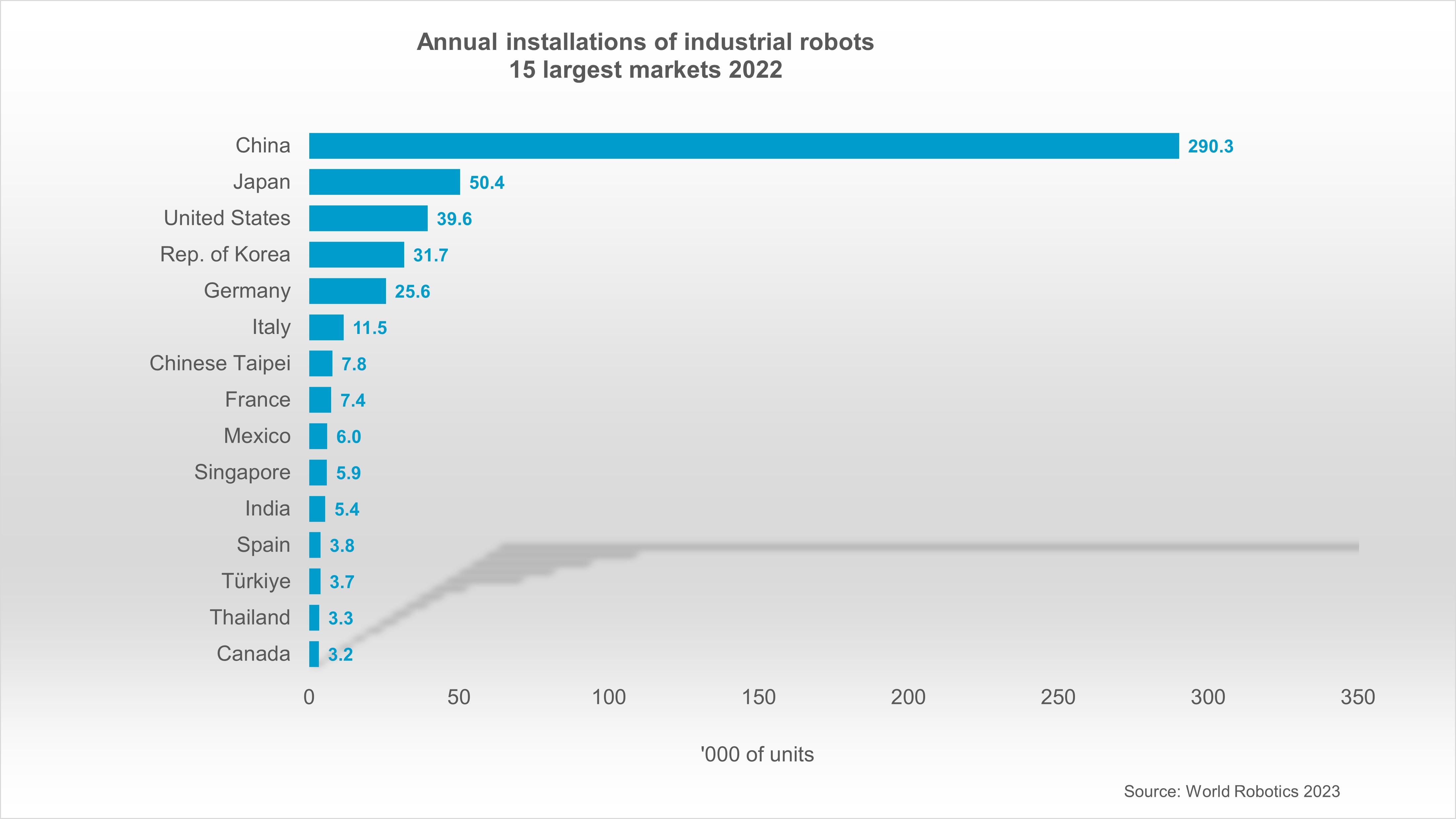 All graphs courtesy of IFR
That was a new record and a 5% jump from China's 2021 installations, which in turn was a 57% jump from the number in 2020 — understandably so, given the pandemic and China's zero-COVID policy). But the overall trend is unmistakable: "To serve this dynamic market, domestic and international robot suppliers have established production plants in China and continuously increased capacity," said the IFR. "On average, annual robot installations have grown by 13% each year (2017-2022)."
The graphs here shows other top-ranking countries by robot installations, though none come close to China. Among highlights from the IFR report:
Robot installations in Japan were up by 9% to 50,413 units. "The country ranks second to China in size of market for industrial robots," the IFR reported. "Japan is the world´s predominant robot manufacturing country with a market share of 46% of the global robot production."
Though installations only rose by 1% to 31,716 in 2022, the Republic of Korea remains the fourth largest robot market in the world, following China, Japan and No. 3 the United States.
The United States accounted for 71% of the 56,053 installations in the Americas in 2022. Robot installations were up by 10% to 39,576 units. "The main growth driver was the automotive industry that displayed surging installations by +47% (14,472 units)," the IFR reported. "The share of the automotive industry has now grown back to 37%, followed by the metal and machinery industry (3,900 units) and the electrical/electronics industry (3,732 units)."
As for the future, in contrast to an expected global economic slowdown, "in 2023 the industrial robot market is expected to grow by 7% to more than 590,000 units worldwide," said IFR President Marina Bill, and to hit the 600,000 units mark in 2024. — Adam Bruns