Only four of the 30 teams in Major League Baseball are named for their states and not their home cities. Two of them — the Texas Rangers and the Arizona Diamondbacks — will meet in this year's World Series. But don't let their official names fool you: These two teams' respective metro-area homes of Dallas-Fort Worth-Arlington and Phoenix-Mesa-Chandler know how to make a name for themselves.
The Census Bureau in May saluted the nation's fastest-growing cities and metro areas, noting that six of the nine fastest-growing large cities were in Texas. Between 2021 and 2022, the fastest-growing cities by numeric growth were Fort Worth, Texas, with an increase of 19,170 people and Phoenix, Arizona, with an increase of 19,053. With 1.6 million people, the city of Phoenix proper was No. 5 in population in the nation. The Bureau even called out both World Series regions (and this year's American League Championship Series runner-up) in its notes:
"The Phoenix-Mesa-Chandler, Arizona, metro area surpassed the 5 million population threshold between 2021 and 2022." That made the metro area the nation's 10th most populous. Arlington is No. 51 among the nation's 806 incorporated places with populations of 50,000 or more.
"The Dallas-Fort Worth-Arlington, Texas, metro area had the highest numeric increase in population between 2021 and 2022 of any U.S. metro area, with an annual jump of 170,396 people, followed by the Houston-The Woodlands-Sugar Land, Texas, metro area which added 124,281 residents over the same time period." DFW is the nation's fourth most populous metro area.
Among other salient figures: With 28,051 new units between July 1, 2021, and July 1, 2022, The primary Phoenix-area county of Maricopa County was second in the nation in housing unit growth behind Houston's Harris County. Dig into the Census numbers and you'll find that many of the fastest-growing cities by percent change are in the Phoenix region: Queen Creek, Buckeye, Maricopa and Casa Grande all make the top 10, with Goodyear No. 16.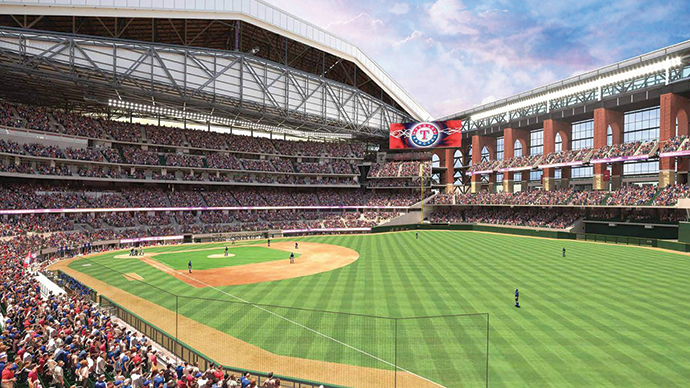 The Texas Rangers' home ballpark of Globe Life Field just opened in 2020 and is part of a booming regional economy in Arlington and beyond. In addition to the upcoming World Series, the facility will host the 2024 MLB All Star Game.
Image courtesy of Arlington CVB
Meanwhile, there's no doubt about the DFW region's population boom. These city-level numbers don't just display the growth in Phoenix, but the leading growth in three different DFW municipalities:
The 15 Cities With the Largest Numeric Increases Between July 1, 2021, and July 1, 2022, With Populations of 50,000 of More on July 1, 2021
| Rank | Area Name | State | Numeric Increase | 2022 Total Population |
| --- | --- | --- | --- | --- |
| 1 | Fort Worth city | Texas | 19,170 | 956,709 |
| 2 | Phoenix city | Arizona | 19,053 | 1,644,409 |
| 3 | San Antonio city | Texas | 18,889 | 1,472,909 |
| 4 | Seattle city | Washington | 17,749 | 749,256 |
| 5 | Charlotte city | North Carolina | 15,217 | 897,720 |
| 6 | Jacksonville city | Florida | 14,408 | 971,319 |
| 7 | Port St. Lucie city | Florida | 13,887 | 231,790 |
| 8 | Cape Coral city | Florida | 13,017 | 216,992 |
| 9 | Houston city | Texas | 11,223 | 2,302,878 |
| 10 | Georgetown city | Texas | 10,887 | 86,507 |
| 11 | North Las Vegas city | Nevada | 9,419 | 280,543 |
| 12 | Henderson city | Nevada | 8,994 | 331,415 |
| 13 | Dallas city | Texas | 8,833 | 1,299,544 |
| 14 | Irvine city | California | 8,589 | 313,685 |
| 15 | Frisco city | Texas | 8,506 | 219,587 |
Source: U.S. Census Bureau, Population Division, Vintage 2022 Population Estimates, release date: May 2023.
The population momentum carries over to economic development success (with sports a big part of it in Arlington). Both regions are welcoming huge semiconductor industry investments, with some calling North Texas the nation's "Silicon Prairie." With 426 projects, the DFW region finished barely behind No. 1 Chicagoland in Site Selection's Top Metros ranking this year. Metro Phoenix was just outside the top 10. Both metro areas were in the top 10 in Site Selection's annual Sustainability Rankings, published in July.
DFW's 2022 project total was only 22 projects behind the Chicago region.
Interesting number, 22.
That's how many years it's been since the Arizona Diamondbacks went to the World Series. (It's been 12 for the Rangers.) The MLB playoffs began 22 days ago. Twenty-two is also how many times the visiting team has won a game during the MLB postseason's 36 games thus far — I know because I went through all 36 game recaps this morning to make sure.
It's almost enough to put a bet down on a strong performance in World Series relief pitching from Jon Gray, No. 22 for the Texas Rangers, who was added back to the Rangers' postseason roster in mid-October after rehabbing from a forearm strain. He certainly performs well off the mound.
Along with Boston Red Sox legend Carlton Fisk, Gray, a member of the Cherokee Nation, in November will receive the Bob Feller Act of Valor Award in Washington, D.C. The award honors the legacy of Cleveland pitcher Bob Feller, who put his baseball career on hold to serve in the military during World War II. In addition to other acts of community service, Gray's #MissionGrayWolf22 program hosted 28 military personnel and their families at 12 Rangers home games this season.
On the field, home games don't seem to mean as much as they used to. The Rangers and Diamondbacks have accounted for an astounding 15 of those 22 postseason road-game victories, including the final four games of both league championship series.
These teams are so tough they don't seem to care where they're playing. But the booming populations of fans in their hometowns sure do. — Adam Bruns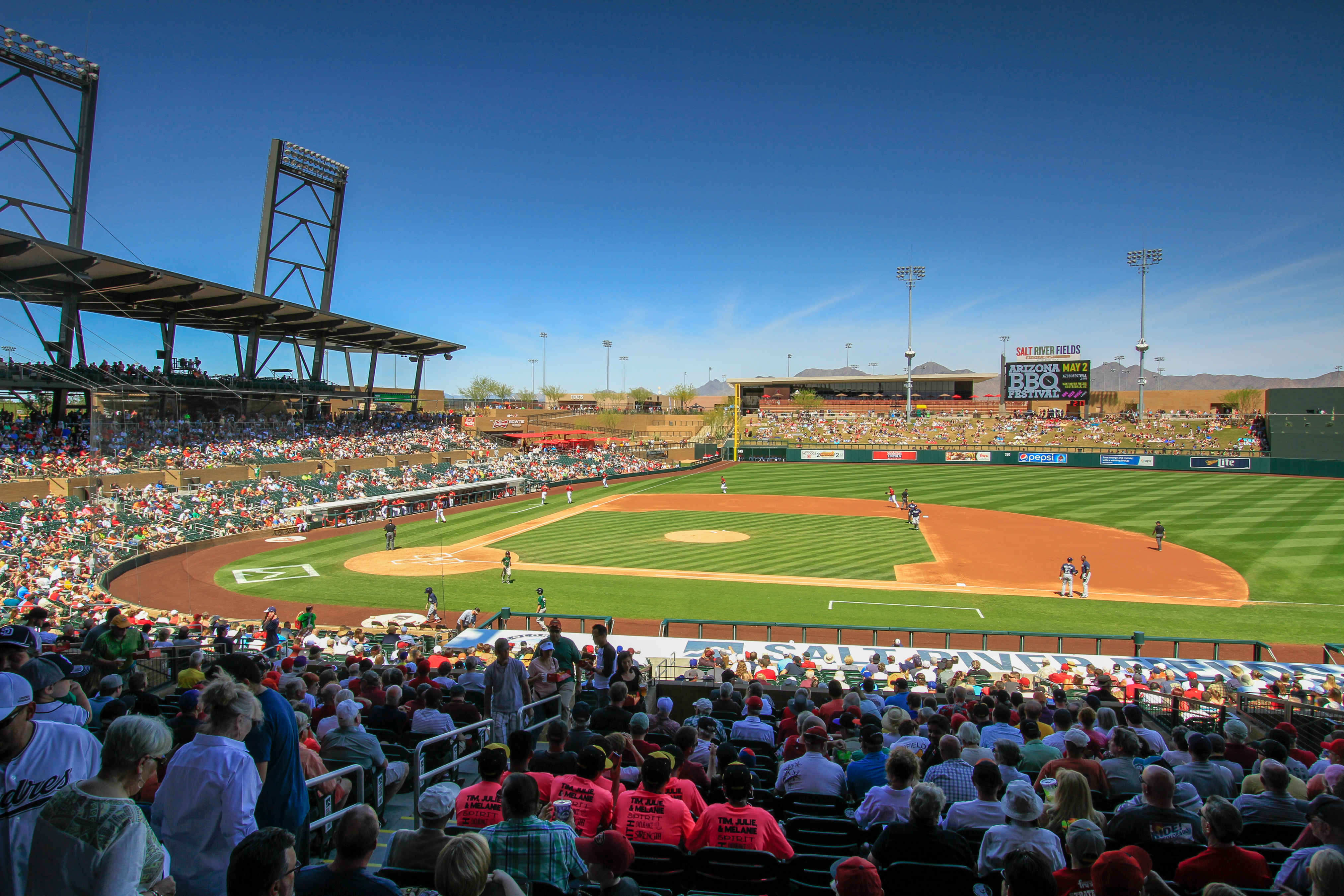 Greater Phoenix's baseball economy includes venues like Salt River Fields in the Salt River Pima–Maricopa Indian Community near Scottsdale, the spring training home to two of the four MLB teams representing states and not cities: the Arizona Diamondbacks and the Colorado Rockies.
Photo courtesy of Arizona Tourism