DALLAS
—
Texas Instruments
(TI at
www.ti.com
), bucking industry trends and boosted by US$135 million in state incentives, says that it will build a new $3-billion chip fabrication plant in the
Dallas
suburb of
Richardson, Texas.
Employing as many as 1,000 workers at peak capacity, the new fab will be one of fewer than a dozen in the world using 300-millimeter (12-inch) silicon wafers.
TI is headquartered in Dallas, where it was founded in 1930 (as Geophysical Service). And last year it opened a 300-millimeter Dallas-area fab, known as DMOS 6.
"The Big D," however, was no automatic project lock, said Tom Engibous, TI chairman, president and chief executive. Moreover, sizeable state support was a prerequisite for Texas to land the project, he explained.
"In considering Richardson, TI asked the state to make a significant commitment," Engibous said at the project announcement.
Like most semiconductor players, TI took a long look at offshore sites' savings, Engibous explained. China was the major offshore contender for the DMOS 7 fab, he said.
TI earlier this year partly embraced many cost-conscious chip-makers' offshore location logic. After its disappointing 2002 results, the company announced that it was shifting its Massachusetts-based sensor manufacturing to China, Korea and Mexico.
In the end, though, TI chose to swim against chip-makers' offshore tide, staying stateside with DMOS 7. That decision, however, is a high-risk roll of the site-selection dice, some analysts contend.
Incentives Will Go to UTD
Engineering, Computer Science School
Texas wasn't TI's only onshore location option, Engibous said. A number of other unnamed U.S. states made what Gov. Rick Perry (R) called "lucrative offers."
The Texas incentives were clearly central in keeping TI home. But the state's initial $135-million commitment isn't going to TI. Instead, the funding is ticketed for the Erik Jonsson School of Engineering and Computer Science (
http://utdallas.edu/dept/eecs
) at the University of Texas at Dallas (UTD).
"An important factor in our site selection was finding a climate that encouraged advanced research and extreme innovation," Engibous said. "The state's commitment to a large investment in the Jonsson School was important in our decision to locate a facility of this magnitude here in North Texas."
The state is providing $85 million for use in buying land and building a new Jonsson School R&D center. The state will own the facility, leasing it back to UTD, Texas officials said. In addition, Perry earmarked $50 million from the state's newly created Texas Enterprise Fund to enhance UTD's engineering and computer science programs.
Incentives Aimed at Brain-Power Boost
For TI, those incentives will pay off in employee brain power, Engibous explained.
"UTD is one of the places TI will recruit the best minds in engineering," he said. "As many of you know, Dallas is the only major city of the top 10 or 12 where there's no top-tier research university. Some of our competitors reside in cities with three such institutions, and those are cities where we draw from and recruit our talent."
TI's connections with UTD extend to the institution's roots. A group of TI executives founded the university in 1961. The company's continuing close ties with UTD include the Jonsson School, named for one of TI's three founders.
"UTD is now poised to move into the ranks of the country's great engineering schools," Engibous said. "We all stand to gain from the well-educated work force and top-notch R&D programs this effort will produce."
Declining numbers of engineering school graduates, Engibous added, are a major obstacle for TI, as well as the entire U.S. tech sector. A 2003 study by the National Research Council of the National Academies quantified that obstacle: The number of bachelor's engineering degrees granted annually by U.S. universities, the study found, equaled only one-sixth of the combined annual total granted in China, India, Japan, South Korea and Taiwan.
Governor: 'Largest Modern Day Private-Sector
Project Exactly What We Expect from Enterprise Fund'
There's no obstacle, though, in securing DMOS 7's site, which will likely hire a bevy of UTD grads. TI already owns the land, lying just outside Dallas a few miles north of the company's headquarters.
"We expect to break our first ground in 2005," Engibous said. Construction will be completed in 18 months, he added.
The project marks the Texas Enterprise Fund's biggest victory yet. At Perry's request, the Texas Legislature this spring created the $295 million fund. The legislation allows the governor, with the lieutenant governor's and House speaker's consent, to tap the subsidies to rapidly recruit major expansions.
The seeds for the fund's creation were sowed two years ago, when Dallas lost out in landing Boeing's headquarters relocation. Fast-acting Illinois officials helped steer the coveted project to Chicago.
"This is the largest modern-day private-sector economic development project ever undertaken in Texas," Perry noted. "When I advocated the creation of the Texas Enterprise Fund, I told Texans it would be an invaluable tool to attract and retain jobs, industries and revenue. That has been proven true today."
Over a five-year span, the state will contribute $300 million to the Jonsson School, Perry said.
In addition, TI has negotiated tax abatements with local cities, counties and school districts, said Engibous, who didn't disclose their value.
Federal aid could also be in the project's future, suggested U.S. Senator Kay Bailey Hutchison (R), part of what Engibous "a who's who of federal, state and local leaders seated here."
"Texas Instruments is making a lasting contribution to the future of UT Dallas and to Texas," Hutchison said. "I will work to add federal resources to the research capabilities of this partnership."
Some Analysts Question Decision
But despite all the celebratory hoopla, some industry observers remained skeptical about the investment's soundness.
Part of the skepticism is based in TI's poor 2002 performance, which marked a $344-million loss. TI fared much better during 2003's first three months, reporting a $117-million profit. But it recently downgraded projected first-to-second-quarter revenue growth from 7 percent to 5 percent. Engibous, however, characterized the downgrade as a temporary setback stemming from the now-ebbing SARS virus.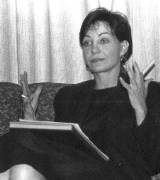 Photo by María de la Luz Martínez
"We believe the weakness in demand is largely due to the ongoing economic impact associated with SARS, and should abate as the health concerns are resolved," Engibous said.
Analysts' more persistent concerns revolve around the timing of the billion-dollar Dallas project. It comes as the chip industry's long slump continues to hang on like a bad summer cold. The Semiconductor Industry Association recently cut its 2003 chip-sales forecast back to a 10 percent increase, citing continuing slow technology spending.
Engibous, however, said that TI was encouraged that its 300-millimeter DMOS 6 fab is already running at one-third capacity.
But does that signal a higher gear in the tech sector's sputtering recovery?
Investors didn't seem convinced in the fab announcement's aftermath. TI's stock remained stalled between $19 and $17 in the days following the $3-billion project's unveiling. It dipped 47 cents to $17.75 in the New York Stock Exchange's last trading day before the long July 4 weekend. TI, however, isn't the only chip-maker betting on a near-term rebound. Samsung in early May announced that it's adding 300 workers in a $500-million expansion of its Austin, Texas, fab (see the
May 5, 2003 Project Watch
for further details).
'A Catalyst for Other Companies?'
Analysts' concerns likely won't abate any time soon - particularly considering that TI is utilizing less than 80 percent of its manufacturing capacity. And Engibous cautioned that "the exact timing of [DMOS 7] construction will depend on the economy and market demand."
Caution also characterizes TI's schedule for ramping the new fab up to full capacity, he added.
"TI plans to construct the building and infrastructure ahead of market demand, followed by stages of equipment installation as demand increases," Engibous explained. "This construction method spreads capital investment over a period of years and allows the company to increase production quickly as customers demand more products."
But euphoria rather than caution was the announcement's dominant vibe. And part of that euphoria was based in positive outcomes that will extend well beyond a single company.
"This has been a wise investment of state funds and a coup for Texas and the Dallas metro area," said Jan Hart Black, president of the Greater Dallas Chamber (
www.dallaschamber.org
). "Today's announcement will broaden the number of highly skilled workers, increase our tax base and provide major economic development."
"Ultimately," Engibous said, "we hope this strategic partnership of academia, industry and government will be a catalyst for other companies to locate or expand in the region."