An improved investment climate owing to changes in foreign direct investment laws and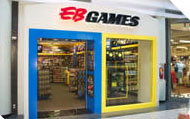 Electronics Boutique is a leading specialty retailer of video games and accessories.
deregulation of energy and telecommunications, among other changes, explains why Invest in Sweden could claim involvement in 88 new investments during the first half of 2004, a 60-percent improvement over the agency's 55 projects during the first half of 2003. But just as important has been the EU accession of the Baltic states, which some say has restored Sweden to the central role in Northern European affairs that it played before the Soviet era.
Between 1999 and 2003, the country received some 47 percent of all FDI in the Baltic region, taking in US$111 billion in investment while its own companies invested some $97 billion abroad.
Most of the new projects in early 2004 were from U.S., German or British companies, and many have logistics motivations related to increased industrial and commercial activity in the Nordics and Baltics.
Take video game and software retailer
EB Games
, which cited logistics as its No. 1 motivation for a move of its headquarters and logistics center to Arlov, outside Malmö, from Copenhagen.
"We wanted a site from which we could reach the maximum number of our Nordic stores within 24 hours and preferably less," stated Erik Hjelmstedt, EB Games' director of finance. "For us, that meant finding somewhere within the Malmö-[Gothenburg]-Jönköping axis. It wasn't possible to meet our criteria from Denmark."
The logistics advantage is extending beyond Malmö and Stockholm: The automotive sector in the western part of the country is building its own momentum, having brought 20 projects to the region in 2003. Gothenburg, already seeing a large investment from Ford Motor Co.'s
Volvo
division, is seeing increased logistics activity too, and Sweden's knowledge base continues to drive ongoing investment in the IT and biotech/pharmaceutical sectors. French biotech company bioMerieux, for example, has just established a Nordic headquarters and logistics center in Gothenburg, and Prologis is building there as well.
The 2004 European Cities Monitor from Cushman & Wakefield Healey & Baker found Stockholm the preferred Nordic-Baltic regional headquarters operating base. And its telecom set-up helped the city rank 15th in all of Europe.
Sweden — and for that matter, Scandinavia as a whole — is frequently dogged by a reputation for a high-cost social safety net. But Swedish officials point to such Swedish pluses as its 28-percent corporate tax rate, a commitment to the 40-hour work week and a push of the retirement age from 63 back up to 65. They say the highly unionized labor force is more cooperative than combative in its negotiations. And they also point to affordable cost for high-level expertise: In 2003, the technical engineer salary range was $66,000-$80,000 while equivalent jobs in the U.S. paid $74,000-$116,000. Those job-level numbers are backed by high rankings in all of Europe for R&D investment, regional headquarters locations and venture capital.
The country (and by extension, the region) may also be a growing gateway to and from Asia. But in the meantime, there is evidence Sweden is a growing gateway to a cross-pollinating Europe.
Low-fare airline Ryanair is investing $60 million in order to serve Dusseldorf, Barcelona and Riga, Latvia, from its base in Nyköping. And the country — already known for its multilingual citizenry — is seeing a new wave of immigration from the Baltics and beyond, pushing its population base above 9 million.