For a country with a labor force of only 167,000 to distribute across its 40,000 sq. miles (103,000 sq. km.), Iceland is garnering some mammoth investments and is projected to see 4- percent economic growth through 2006.
Much of the momentum is coming from just two major aluminum projects.
Alcoa
's double investment in a smelter and a hydroelectric plant is projected to cost $2.2 billion. And
Century Aluminum
is spending close to $600 million on expanding its own smelter in Grundartangi, adding 130 jobs to its current payroll of 190. The expansion is expected to add about 4 percent to Iceland's annual export revenues.
Among Century's other operations are plants in West Virginia and Kentucky, as well as a plant co-owned with Alcoa in Mt. Holly, S.C.
Denmark
While Copenhagen certainly gets its share of projects via its port, airport headquarters and Medicon Valley synergies, it's a Denmark-based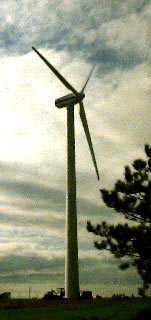 Vestas manufactures wind turbines that are as tall as 242 feet (73.4 meters) and are equipped with blades as long as 77 feet (23.3 meters).
company that also sets the tone for this nation's economic vibrance.
Based in Ringkobing, Jutland,
Vestas Wind Systems
is a name familiar worldwide as the largest global wind turbine manufacturer. The 25-year-old company has production facilities in 10 countries, including Denmark, Sweden and Norway. Its turbines are involved in a new wind energy farm in Sweden operated by utility Vattenfall, and the company just received a $65-million order for equipment headed to a Quebecois wind farm. As the company acquired fellow Danish firm NEG Micon early in 2004, it trimmed 475 people and moved its headquarters from Ringkobing to NEG Micon's home base of Randers, projecting cost savings of some $83 million annually through 2006. Vestas now is projected to have a 35-percent market share, along with employing around 9,500 people worldwide.
The real growth behind Vestas' projected 2004 revenues of $3.1 billion is coming from Germany, the Asia Pacific, India and the British Isles. A new plant is being built in Australia, and the company is considering new plants in both North America and China. That said, the company's fortunes are intertwined with those of its home nation, which is embarking on three separate wind farm projects. In Sweden, too, interest in renewable energy (especially in the wake of the government's decision not to go forward on a new nuclear plant) means good things for Vestas, and for Scandinavia's energy base.