As regional cross-border attempts at collaboration go, the eight-year-old Medicon Valley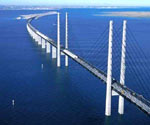 Opened in July 2000, the 10-mile (16 km.) Oresund Bridge that connects Denmark and Sweden's "Medico Valley" is Europe's largest infrastructure project since the Channel Tunnel. The bridge's final sections had to be put into place by pontoon cranes.
region straddling the Denmark-Sweden border sets quite an example.
Some of the biopharma activity is in mergers and acquisitions, such as Merck's September 2004 purchase of Stockholm-based generics manufacturer NM Pharma from Pfizer, which had acquired it during its own acquisition of Pharmacia. But new firms are also making the headlines, and they often do it in the Medicon Valley. San Diego, Calif.-based
Acadia Pharmaceuticals
is moving to Malmö's Medeon Science Park, for instance, occupying a 32,293-sq.-ft. (3,000-sq.-m.) custom-built chemistry lab. The company has had a Danish chemistry research presence since 1997 in Copenhagen.
Press reports in September 2004 indicated that biotech giants
Biogen IDEC
and Roche both are looking to invest or partner with companies in the Medicon Valley area, which incorporates both Copenhagen in Denmark and Skane in Sweden. But Biogen has already invested plenty, announcing in June 2004 its plants to build a $340-million, 200-employee plant in Hillerod, north of Copenhagen, to manufacture a new treatment for multiple sclerosis. The project, projected to come online in 2008, is the fruition of a plan originally announced in 2003, but put on hold as facility portfolio questions were addressed in the wake of the Cambridge, Mass.-based
company's merger with IDEC Pharmaceuticals Corp. In July 2004, the company established its new international headquarters in Zug, Switzerland.
Building on the Scandinavian reputation for biotech that has produced such companies as AstraZeneca (Sweden), Nycomed (Norway) and Novo Nordisk (Denmark), the University of Southern Denmark in Odense has just opened a multi-million-dollar center for stem cell research. And a $20-million Center for Vaccine Research has just been opened by Danish government-owned Statens Serum Institute.
The prospective investments would follow a pattern set by companies like Danish-Swedish medical device maker Millimed A/S, which in August 2004 received a $21-million investment from the Danish Fund for Industrial Growth, Advent International, Scandinavian Life Science Venture and Bio Fund. The company, which employs 45, just expanded its production base in Roskilde, near Copenhagen, and maintains its sales and marketing base in Helsingborg, Sweden. And CMC Biopharmaceuticals A/S in August saw its 80,000-sq.-ft. (7,432-sq.-m.) contract bio-manufacturing facility in Copenhagen approved by regulatory authorities.
Meanwhile, Skane also is seeing investment of another kind. Rexam, a British packaging firm, is adding 30 jobs and investing more than $4 million to expand its Limmared plant that produces the distinctive bottles used by Swedish vodka client Absolut.