Prosperous Portfolio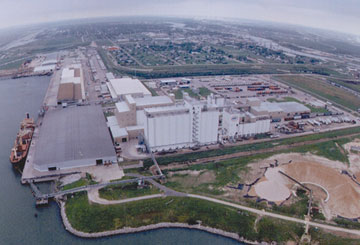 The American Rice complex in Port Freeport has been part of the local economy for 20 years. Now it will be even more connected to the international markets its Spanish parent wants to reach, in part by entering new business segments like cookies and olive oil.
he multiplier effect is on full display in Port Freeport, Texas, a key part of the Houston MSA's performance in attracting new plants and expansions in 2005.
First,
American Rice Inc.
's (ARI) US$110- million family of expansion projects will serve the multiple business areas of parent company Grupo SOS, based in Madrid, Spain, with components including new rice storage bins, a relocated North American operational headquarters, an olive oil bottling plant and a cookie-baking facility.
Second, those rice bins will be filled with rough rice grown on paddies in Texas, Louisiana, Mississippi and Arkansas, with all but the Texan rice delivered by barge. American Rice's facility is the only rice mill in the U.S. that is located in a deep- water port.
Port Freeport has requested permission from the Texas Bond Review Board to issue $45 million in industrial development revenue bonds for project financing.
Pete Reixach, executive director of Port Freeport, says American Rice has been an economic catalyst for the port and the region for 20 years: "This expansion will kick things up yet a few more notches," he noted at the project announcement.
The first notch will be a $40-million first phase, featuring a 151,165-sq.-ft. (14,043-sq.-m.) automated warehouse for finished goods, eight round storage bins encompassing 45,225 sq. ft. (4,201 sq. m.), a 36,206-sq.-ft. (3,364-sq.-m.) instant rice plant and a 116,736-sq.-ft. (10,845-sq.-m.) olive oil bottling plant, marking the American company's entry into a business segment that Grupo SOS already has entered in other world markets. In this case, the Caribbean market is part of the plan. The USA Rice Federation, among other industry groups, was an enthusiastic supporter of the Central American Free Trade Agreement passed in July 2005 by the U.S. Congress. ARI President Lee Adams serves as that group's chairman.
When complete in 2008, that first phase will take ARI's employment in Freeport from 350 to 485. The second phase would introduce yet another business segment — cookie baking — to the ARI complex, with the construction of a $70-million, 200-employee bakery.
"Forty years ago, when I began in the rice business, I never thought we would be in the cookie business," said Adams, who helped move the company's facilities from Houston more than 20 years ago. "Things have changed, but one thing that hasn't is the mutually beneficial relationship between ARI and Port Freeport."
The same could be said of the mutually beneficial relationship between Houston and the bevy of cities surrounding it, including Texas City (home to new projects from
BP
and
Dow Chemical
), Baytown, La Porte and Sugar Land.
BASF Corp.
is investing in multiple expansions totaling $179 million at plants in Bayport, Freeport and Pasadena.
The metro's never-ending rivalry with Dallas-Ft. Worth for top metro in Texas only serves to goad proactivity, exemplified by the wide-ranging support now building for accelerating development of the I-69 corridor (see sidebar, p. 254). Transport infrastructure is also expanding via the Port of Houston's Bayport Container Terminal, which will feature 1,660 ft. (506 m.) of wharf and a 65-acre (26-hectare) facility when it opens in fall 2006. The port saw a 14.5-percent increase in container business between 2003 and 2005.