Moving Forward in Arkansas
Kimberly-Clark was one of only two organizations in 2005 whose radio-frequency identification (RFID) R&D facilities received accreditation as global performance test centers from EPCglobal, an organization promoting the adoption of RFID and electronic product code (EPC) technologies. The other was the University of Arkansas' RFID Research Center at the Sam M. Walton College of Business, in Fayetteville, Ark., which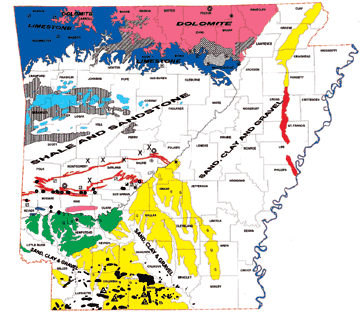 The natural gas assets of Arkansas, shown above in light blue, are bringing in company operations as well as exploration.
Map courtesy Arkansas Geological Commission
happens to be one of that state's top- performing metros in attracting corporate projects in 2005, tying with Little Rock- North Little Rock.
The Kimberly- Clark Texas- Arkansas connection does not stop with RFID either. The company's Conway, Ark., facility, along with the plant in Paris, Texas, was among those slated for expansion in the wake of the company's July 2005 consolidation plans.
The Fayetteville metro is known as Fayetteville- Springdale- Rogers, three communities almost equally spaced along I-540 in northwest Arkansas. But no matter how you slice it or splice it, it's a region on the make. Wal- Mart headquarters city Bentonville has a lot to do with that, as do the northwest Arkansas hometowns of Tyson Foods (Springdale) and J.B. Hunt (Lowell).
Fayetteville- based University of Arkansas projects that the northwest region of the state will surpass Little Rock's home territory of Pulaski County in population before 2025. No wonder eight different commercial/industrial parks are under construction in Bentonville alone.
Part of the metro is also the town of Siloam Springs, on the state line with Oklahoma, which saw 2005 project investments of $22 million from
Simmons Pet Food
and $5 million from
Day Spring Cards
, projects that together will create 88 jobs.
Danny Games, business development manager for Entergy's Teamwork Arkansas economic development arm, says the regional approach to economic development is starting to pay dividends for the Little Rock metro, which has seen recent projects from
Dassault Falcon Jet Corp.
,
FTD.com
,
Ring Container Technologies
and
Cardinal Health
, among others.
"We're seeing a lot more distribution projects," says Games, mentioning two requests- for- proposals for such projects that had just arrived. Two other RFPs had also arrived for operations that were half distribution and half manufacturing — but they were all in eastern Arkansas.
As for full-blown manufacturing, the state's leading micropolitan areas are taking care of business.
Hino
continues to grow in Marion, helped in part by an innovative automotive sector training program at nearby Mid- South Community College. But Arkansas micropolitans in 2005 were led by Russellville, with two projects, and Blytheville, with three. Russellville, which boasts an I-40 location and the presence of Arkansas Tech University, saw a $27- million investment in a poultry processing facility by
Tyson Foods
.
In Blytheville, a Mississippi County town just below the Missouri boot- heel and within a stone's throw of I-55 and Tennessee, the name of the game is steel. The year 2005 saw projects from
Nucor
,
IPSCO Tubular
and
Atlas Tube
, which is investing $55 million and hiring 100 people for a new 450,000- sq.-ft. (41,805- sq.-m.) manufacturing facility.
"We're very excited about being in Blytheville and building a world- class facility next to Nucor Steel. This location, combined with our other plants, strategically positions Atlas Tube to better serve the entire North American HSS [hollow structural section] market," said Barry Zekelman, CEO of Atlas Tubes, Inc., in October 2005.
Two issues figure to steer industrial development in 2006: The most obvious is the governor's race, which has already seen both front-runners feature economic development as a leading plank in their campaigns. The other issue lurks, literally, just below the surface.
The rise in natural gas prices has now made it economical for companies to drill for it in the state's Fayetteville Shale formation, in the north-central part of the state, says Games. As a consequence, companies like
Royal Dutch Shell
are buying mineral rights, which is in turn raising the price of property. Shell in January bought the rights to 70,000 acres (28,329 hectares). Houston-based
Southwestern Energy
(formerly based in Arkansas) is investing more than $400 million in exploration across the Arkoma Basin, including 900,000 acres (364,230 hectares) in the Fayetteville Shale. And
Schlumbarger
has contracted to perform work in the state too.
A look at the formation's well production through November 2005, tracked by the Arkansas Oil and Gas Commission, shows that the oldest of 66 tracked wells began production in May 2004. Conway and Van Buren counties lead the way in wells, and Southwestern subsidiary SEECO leads investors, operating 62 of the 66 wells.
"It's definitely nice to have those jobs in the state, but it's having an effect on land prices," says Games. Mineral rights apply to what lies underneath, so there is nothing preventing continued farming and residential development on top. But could a company still erect a manufacturing plant or distribution plant on land underlaid with mineral rights claims? Economic development officials say it happens all the time.
But no matter what happens on the land above the gas, there is promising spinoff already: Both Schlumbarger and Southwestern are investing in corporate office complexes in Conway, Ark., which together will employ some 250 people.