A Steady Heartbeat in the Heartland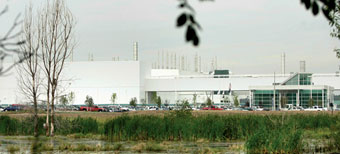 Opportunities to LEED: The new General Motors Lansing Delta Township Assembly Plant, opened in late 2006, received a gold certification from the U.S. Green Building Council's Leadership in Energy and Environmental Design (LEED) program, which recognizes superior energy and environmental design and construction. The facility is the only automotive manufacturing plant in the world to ever receive any level of LEED certification, and began producing the Saturn Outlook, GMC Acadia, and Buick Enclave during the fourth quarter of 2006. (General Motors Photo/John F. Martin) (United States)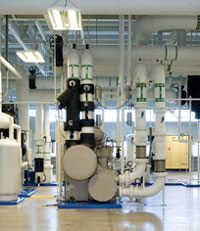 In July 2006, Ohio received its first LEED gold certification at the Honda R&D Americas (HRA) central plant facility in Raymond, Ohio. Among its attributes: an emergency generator that operates on biodiesel. "Every year we introduce new Honda and Acura models that are designed and engineered to reduce emissions and fuel consumption and to eliminate waste in the production process," said Hirohide Ikeno, president of Honda R&D Americas. "Building green facilities is another important part of Honda's environmental commitment and our effort to be a company that society wants to exist." HRA announced March 27th 2006, that it will build a new Acura Design Studio in Torrance, Calif. that will also be constructed as a certified green facility.
New OEM investments across the Rust Belt include:
• A $500- million investment in GM's Toledo Transmission Plant to produce a new Hydra- Matic 6L80 six- speed, rear- wheel- drive automatic transmission for full- size SUVs and trucks. "Our strong partnership with the UAW and Local 14 resulted in a unique work agreement that will create a plant within a plant and help usher in an era of new competitively produced, world- class six- speeds," said Joe Choate, plant manager. A new team concept arrangement developed for the facility will include hourly members of UAW Local 14 and salaried employees. The move comes a Chrysler Group adds a third shift at its Toledo North complex, the follow- on to a $600- million investment announced in November 2005.
• A cumulative $545-million investment in five GM facilities in Pontiac, Lansing Grand River, Ypsilanti and Romulus, including $152 million in Ypsilanti for six-speed transmission production.
• Ford's $214- million investment in a new press at its stamping facility in Buffalo, N.Y., which will supply the company's assembly plant across the border in Oakville, Ont.
• Toyota's September 2006 groundbreaking for its 700- acre, $187- million Toyota Technical Center in York Township, Mich. The center will add 400 jobs to the current payroll of 756 by 2010.
• GM's $300- million investment in 3.6L V-6 VVT engine production in Flint, Mich., and $10- million in a new rollover crash testing facility at its Milford Proving Grounds.
• GM's $210- million investment since January 2005 in retooling production for full- size pickups at its plant in Fort Wayne, Ind.
• Three announcements boosted Michigan's future on Oct. 17, 2006: The reopening of a plant in Sterling Heights by Toronto- based AGS Automotive Systems, creating 130 jobs; a $22- million expansion in Plymouth by Karmann Manufacturing LLC (see Jan. 2005 issue of
Site Selection
), creating 375 jobs; and the consolidation of North American headquarters in Auburn Hills by Siemens VDO Automotive Corp.
•
Behr America
's $8.5- million expansion of its headquarters in Troy, Mich., and capacity expansion in Dayton, Ohio – even as it makes a $13-million, 250-employee investment in a new Mexican plant. "It should be noted that our new Mexican plant will be built near customer assembly plants in Mexico," said Frank Mueller, president and CEO of Behr America, in 2006. "It will not impact operations at other Behr America plants in North America."
• In a move to supplement its U.S. heartland production,
Aisin Seiki
, which until now has tried to meet door frame demand from its plant in Seymour, Ind., announced on Oct. 31, 2006, that it would invest approximately US$22.6 million in two plants employing 210 people in Woodstock, Ont., and Stratford, Ont. to serve Toyota; and $5 million in one new plant employing 60 in Stockton, Calif., to serve the NUMMI joint venture assembly plant. The Woodstock and Stockton locations are expected to launch in January 2008 in a bid to increase North American production levels by 50 percent.
Automotive Suppliers in North Alabama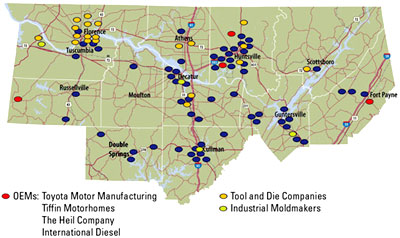 ALABAMA BOUND: In November Alabama celebrated the five-year anniversary of the Honda plant in Lincoln by releasing a new study showing an annual $4.5-billion economic impact and responsibility for creating 45,000 jobs in the state. In 2005, the plant had a total payroll of $252.4 million, or $54,443 per worker. Industry infrastructure is coming into its own at the right time, as a Kia plant takes shape on the Georgia state line. Supplier build-up in northern Alabama alone in recent months includes investments by Topre and Rehau in Cullman and North American Lighting in Muscle Shoals. Meanwhile, the state's training infrastructure has continued to flower, most recently with the 2006 implementation of a new degree in automotive manufacturing technology through the Consortium for Alabama Regional Center for Automotive Manufacturing (CARCAM), a program put together by five community colleges and based at Central Alabama Community College in Talladega.