Hybrid Present, Electric Future
"We told the President we support his and Congress' call for the continued development and use of renewable fuels as part of lessening America's dependence on imported oil. We said that we are willing to do our part to increase the use of renewable fuels and that we stand ready to make half of our annual vehicle production E85 flexible fuel vehicles or capable of running on bio-diesel by 2012."
While OEMs plan programs and energy companies decide where to build biofuel plants and sell their output, other projects are looking further ahead.
The Electric Power Research Institute (EPRI) and Argonne National Laboratory announced in November a three-year collaborative agreement to conduct detailed analysis of plug-in hybrid electric vehicles (PHEVs) aimed at assessing the commercial feasibility of this technology for the U.S. Department of Energy.
In Honeoye Falls, N.Y., GM is conducting fuel-cell engine research that it hopes to be marketing in four to six years.
And in Arizona, North Carolina and California, economic developers are trying to lure a $100-million, 300-worker electric car plant from Tesla, a company based in San Carlos, Calif., that makes an electric roadster priced at $100,000.
The areas under consideration in early December were California's Central Valley, the Research Triangle in North Carolina and Flagstaff, Ariz., with a decision expected by year's end. North Carolina and Arizona have offered start-up incentive packages of approximately $15 million. While Martin Eberhard, company president, has said that California "has no interest in matching offers from other places," such an investment would mesh well with the state's regulatory stance regarding emissions. And the product did elicit this comment from California Gov. Arnold Schwarzenegger at the recently held L.A. Auto Show: "I test drove this vehicle, and it is hot."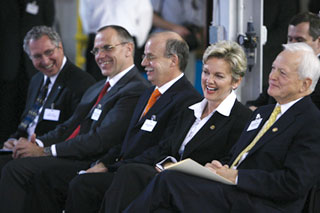 Side by Side: At the official launch of the Hybrid Development Center in Troy, Mich., Governor Jennifer Granholm (center right), laughs with (from left) DirectorBMW Hybrid Project, BMW Group Dr. Wolfgang Epple, General Motors Executive Director Hybrid Powertrains Larry Nitz and DaimlerChrysler Executive Director Hybrid Programs Dr. Andreas Truckenbrodt Tuesday, October 3, 2006. The Hybrid Development Center features more than 500 engineers from the three companies working side-by-side to cooperatively develop the auto industry's most advanced hybrid system.
(Photo by Jeffrey Sauger)