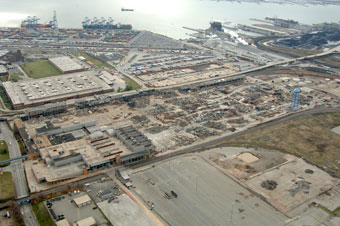 Duke Realty is the lead player in the redevelopment of the former GM plant site in Baltimore.
After Market
With 25 U.S. OEM plants slated to close from just Ford and GM alone, some are already on the road to redevelopment, and others are just entering the on-ramp.
In September 2006, Duke Realty announced it would develop the 528,000-sq.-ft. (49,051-sq.-m.) Lindbergh Distribution Center on the site of the former GM parts facility in Hazelwood, near St. Louis, which GM had sold to Duke in April. Before that, Duke in February had announced its plans to Duke plans to raze the 71-year-old, 3.2-million-sq.-ft. (297,280-sq.-m.) former GM plant in East Baltimore, Md., and redevelop the site into an industrial park encompassing approximately 16 buildings with 2.8 million sq. ft. (260,120 sq. m.) of space. Duke anticipates spending between $140 million and $160 million on the project.
"With access to both the Port of Baltimore and Interstate 95, the GM site represents an ideal location for port and intermodal-related distribution centers," said Denny Oklak, Duke's chairman and CEO.
Bill DeBoer, senior vice president, construction for Duke, tells
Site Selection
the project came about through an RFP that GM sent out, but was helped by the relationship Duke had kindled with the manufacturer through the construction of half a dozen parts distribution facilities.
"There is strong interest in the location," DeBoer says, though the firm is still in the process of demolition and salvage. "We're going through a process with the Maryland Department of the Environment and EPA Region 3 – both of whom have been very cooperative– to try to determine the exact cleanup methods. In the case of that being an assembly plant, the environmental matters are fairly minor when you consider the entire investment."
Asked what the potential for redevelopment might be for the automotive plants slated for closure across the country, DeBoer says, "We have interest in many of the locations but it could be that every single one of them has redevelopment potential."
He says reuse is unlikely, given the configuration of assembly plants and the difficulty of retrofitting. But that doesn't mean some can't try.
Midlink Business Park in Kalamazoo, Mich. is one example: A former 2.1-million-sq.-ft. (195,090-sq.-m.) GM stamping plant, it's now been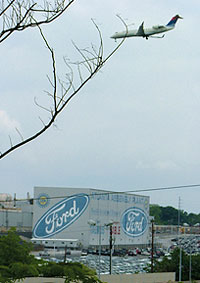 Ford's taken off from its highly productive plant in Hapeville, Ga., adjacent to Atlanta's Hartsfield-Jackson International Airport. The parcel could land a logistics redevelopment – or even a reuse by one of several foreign-based automakers currently on the hunt for a plant site.
"cut in half," say its marketers, and "repurposed as a mixed-use development featuring retail, commercial office and industrial campuses on its 340 acres [138 hectares]." It's already home to a large 3PL, Kenco Logistics Services, which in late 2005 inked a deal in order to serve Kalamazoo-based medical device firm Stryker Corp.
The Ford plant in Hapeville, Ga., literally sandwiched between Hartsfield-Jackson International Airport in Atlanta and I-285, made its last Taurus in fall 2006. And on the other end of the city's MARTA rapid transportation system, the GM plant in Doraville, adjacent to I-85 and I-285, is slated to close too. While some are already making sounds about mixed-use, "live-work-play" redevelopment of these sites, others see logistics or an industrial re-use as more than likely. Ford plants now closing include Norfolk (Va.) Assembly; Twin Cities (Minn.) Assembly; Wixom (Mich.) Assembly, St. Louis Assembly, Atlanta Assembly, Windsor (Ontario) Casting and Batavia (Ohio) Transmission.
In late November, Nissan CEO Carlos Ghosn was reported to be looking at opportunities to further expand the company's manufacturing footprint in North America, including the possibility of purchasing shuttered plant assets.
Ghosn's company is fresh from moving its headquarters from southern California to Nashville. Meanwhile, Nissan in October 2006 sold the 42-acre office and industrial campus it left in California to Kearny Real Estate Company and Morgan Stanley Real Estate's MSREF V U.S., which plan to market the buildings individually in a tight industrial and office market.
Thus do the wheels of automotive site selection continue to turn.