ONLINE INSIDER
Today, by exclusive arrangement, we feature a guest commentary by Colin Yasukochi, executive director of CBRE's Tech Insights Center in San Francisco. The originator of the firm's annual "Scoring Tech Talent" report, published every year since 2013, he makes The Case For Tech-Employment Resilience During COVID-19.
FROM SITE SELECTION MAGAZINE, SEPTEMBER 2020 ISSUE
UPPER MIDWEST
An economic development veteran makes the case for "Nowhere, America."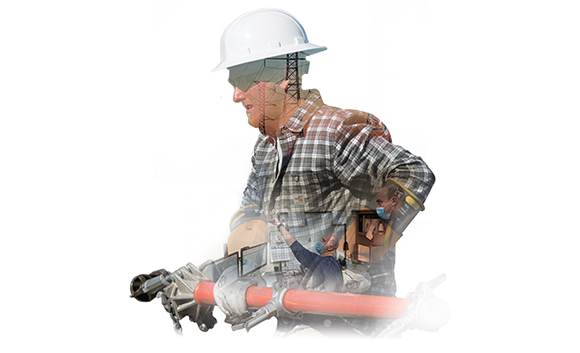 INVESTMENT PROFILE: HOOSIER ENERGY
For Hoosier Energy, there is no pandemic pause.
NEW YORK
In May, TikTok parent company ByteDance agreed to a 10-year lease in the Durst Organization's 48-story One Five One building on Times Square, the same building where NASDAQ is headquartered. According to multiple reports, ByteDance is taking up seven floors. TikTok last year amassed $17 billion in gross sales. After President Trump, citing security concerns, banned TikTok and WeChat from U.S. app stores (due to go into effect this coming Sunday), a deal was reached early this week whereby Oracle and Walmart would assume a 20% ownership in a new entity called TikTok Global. However, the ban is still due to go into effect, and President Trump has declared his opposition to any Chinese ownership in the company's U.S. presence. TikTok yesterday filed for an injunction to stop the ban from going into effect.
MEXICO
Austrian packaging manufacturer Alpla is investing in a high-density polyethylene recycling plant in Toluca, just west of Mexico City. The new plant will produce up to 15,000 metric tons of recycled HDPE annually, and is expected to commence operations in the second half of 2021. "We invest in regions where the demand for recycled material is not yet that high," said Georg Lässer, head of recycling for Alpla, in a release last week. "In doing this, we give used plastics value and act as role models for the achievement of the circular economy." The project follows Alpla's acquisition of two HDPE recycling plants in Spain, its first steps in HDPE recycling. The company hopes to build on the Mexican infrastructure and network established through its post-consumer PET recycling in Mexico, which began when the first bottle-to-bottle recycling plant in Latin America commenced operation in 2005 with Industria Mexicana de Reciclaje (IMER), a JV among between ALPLA México, Coca-Cola México and Coca-Cola Femsa.
CONWAY ANALYTICS SNAPSHOT
Talk to anyone affiliated with an Amazon facility investment, and the first thing they'll say is, "We're not supposed to talk about it." But a company growing at the pace Amazon is growing may have a hard time continuing to demand strict secrecy, as its networked footprint morphs into a global infrastructure all its own.
Last week the company announced that over 300,000 people attended Amazon Career Day on September 15, and that a record-setting 384,000 people applied for a job at Amazon in the U.S. and Canada over the prior week. "We have tens of thousands of jobs available — from roles in finance, robotics, software development or AI, to entry-level positions with highly competitive pay and benefits across our operations network," said Beth Galetti, senior vice president of HR at Amazon. The company now has more than 600,000 full- and part-time employees in the U.S. across more than 40 states and 250 different counties, with two headquarters, 18 "Tech Hubs," and more than 150 fulfillment centers, sortation centers and delivery stations.
On September 14, it announced it was hiring an additional 100,000 regular employment opportunities throughout the U.S. and Canada on top of 33,000 corporate and technology jobs announced the week before. The roles offer a starting wage of at least $15 per hour, and in select cities Amazon is offering sign-on bonuses up to $1,000 to new hires. "We are opening 100 buildings this month alone across new fulfillment and sortation centers, delivery stations and other sites," said Dave Clark, senior vice president of Worldwide Operations at Amazon. This year, Amazon has already opened over 75 new fulfillment, sortation centers, regional air hubs and delivery stations in the U.S. and Canada. Since 2010, Amazon has directly created more than 600,000 jobs in the U.S across its corporate offices and operations sites, and invested more than $350 billion across more than 40 states.
From 2015 to today, Conway Analytics has qualified 375 Amazon projects for the Conway Projects Database, including new investments in Philadelphia; Greenburgh, New York; Ajax, Ontario (1,000 jobs); and the Columbus-area community of New Albany, which is getting a new fulfillment center and a data center investment. — Adam Bruns
"Alexa, in which locations is Amazon investing next?"

Photo of Amazon Echo Plus courtesy of Amazon
SITE SELECTION RECOMMENDS
The recently published Northeast Ohio Intelligence Report explored the inherent power of a robust parks system to enhance economic development. Other evidence is mounting: Two new reports from the Urban Land Institute — Pavement to Parks: Transforming Spaces for Cars into Places for People and Successful Partnerships for Parks: Collaborative Approaches to Advance Equitable Access to Open Space — explore the potential of parks, especially as the COVID-19 pandemic has underscored the importance of community outdoor spaces. "These reports build on ULI's work helping to support vibrant public places in cities across the world," said ULI CEO W. Edward Walter, "and hopefully they will spur conversations about how to fund and reimagine the future of open spaces."
That future is now in Finland, where a new study of the perennial conflict between nature conservation and tourism — embodied in debate over the new Koli National Park — has concluded that sustainable nature tourism can offer a third way forward. Funded by the Kone Foundation (as in Helsinki-based elevator and escalator giant Kone Corp.), the study from the University of Eastern Finland is part of the research project "Lively Border: The Nature Tourism and History Politics in the Finnish-Russian-Norwegian Border Region."
The concept of sustainable nature tourism has played a key role in mediating conflicts between tourism and nature conservation in Koli National Park, Finland.

Photo by Varpu Heiskanen courtesy of University of Eastern Finland
The 2020 Illinois Investment Guide — Illinois: At the Center of the Global Economy — is now available via Digital Edition. Inside, you'll learn about Facebook friending DeKalb County with a new data center; the state's extensive diplomatic connections; the University of Illinois Research Park; and trends in sectors like life sciences, logistics, manufacturing and agribusiness. You'll also hear from top officials at Intersect Illinois, established in 2016 to bring new jobs, investment and economic prosperity to the state and to deliver a unified approach to economic development.
People keep coming to the Charlotte Region. Nearly 100 people a day, in fact. Why do they come here? They come for jobs in a healthy, growing economy with thriving health care, finance and professional services sectors and the No. 1 fastest-growing tech talent market two years running.
They come to start and grow businesses in a region with an educated, talented workforce, regularly ranked in the top three places to start a business. They come for lower cost of living and affordable real estate in neighborhoods for any lifestyle – vibrant urban centers, suburban cul-de-sacs, quaint small towns and rural areas. And 226 days of sunshine a year doesn't hurt either.
With united vision and bold action, The Charlotte Regional Business Alliance is striving to create the most vibrant, innovative and healthy economy in the nation. Learn more about the Charlotte Region and how the CLT Alliance can collaborate with you to promote opportunities and growth for your clients.
Managing Editor Adam Bruns yesterday photographed this work by Jason Kofke created in 2009 at Spruill Center for the Arts in the Greater Atlanta community of Dunwoody. The smokehouse the piece adorns traces to the Spruill land's working farm days in the 19th century. The piece is part of a larger series that included Kofke's spelling out the slogan on railcars, toilets, street signs, a mural depicting a plane that later crashed and on a shoreline in Norway with planks washed up from years of sunken ships. While many find catharsis and comfort in the saying, Kofke himself has leaned toward ambivalence: "I see it [as] more of a question," he told Brooklyn Street Art in 2010. "Will everything be OK?" Now the yard signs, t-shirts and other products created with his work, after an agreement reached with Create Dunwoody and Spruill, are raising funds for artists in need during the pandemic: https://www.everythingwillbeoksigns.com/.