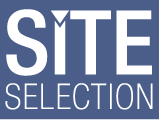 Contact: Adam Bruns
Managing Editor, Site Selection
(770) 325-3491
adam.bruns@siteselection.com

6625 The Corners Parkway, Suite 200
Peachtree Corners, GA 30092 • USA
www.siteselection.com
Press Release
Site Selection Names Top Territories for Infrastructure, Canada's Best Locations and Top U.S. Utilities in Economic Development
Atlanta, September 3, 2019: Canada, the U.S. and the United Arab Emirates lead the way globally, and Texas, Louisiana and Virginia lead U.S. states, when it comes to the powerful blend of infrastructure project investment and corporate facility investment over the past several years. These are among the locations ranked in the second annual Global Groundwork Index, published in the September 2019 issue of Site Selection magazine. (See full lists below.) The index is a blend of proprietary data from Conway Analytics' Conway Projects Database and an equally robust database from global infrastructure advisory and events firm CG/LA.
The Global Groundwork Index identifies where billions of dollars in corporate facility activity intersect with billions of dollars in roads, bridges, airports, tunnels, pipelines, utilities, railroads and other major infrastructure projects to "lay the literal groundwork for prosperity," says Adam Bruns, managing editor of Site Selection.
The Index also features commentary from CG/LA President Norman Anderson highlighting global infrastructure market solutions that go beyond the panacea of the public-private partnership (P3). "The chronic failure of the prevailing P3 infrastructure model is creating both problems and opportunities around the world," he writes, as the sector is transformed by new technologies, a focus on the user experience, and more strategic governance. "Our model suggests that the U.S. market alone could absorb nearly double the level of current investment each year over the next 10 years, in all sectors."
Canada's Best Locations
In this same issue, Site Selection's Canadian Competitiveness Award recognizes Ontario as the most competitive province in a competitive nation, followed by Alberta and Québec. And metro areas from Montréal to Oakville to Calgary and Vancouver fill Site Selection's annual list of top Canadian economic development groups (see full lists below).
Those are the conclusions reached as Site Selection publishes its annual Canada's Best Locations awards and rankings, based on April 2018-March 2019 corporate end-user facility investment and job creation data derived from the Conway Projects Database and the magazine's own research. The Canadian Competitiveness Award, awarded to the Ontario Ministry of Economic Development, Job Creation and Trade, goes to the leading province based on data derived from qualifying new corporate facilities and expansions. The Top Canadian Groups are local or regional economic development groups ranked based on cumulative and per-capita project data, followed by Site Selection's examination of regional partnerships, innovative programming and other factors.
"The annual Canada's Best Locations feature sheds additional light on Canada's many location options for corporate site selectors," says Mark Arend, editor in chief of Site Selection. "We salute the provinces and communities that made this year's rankings."
Top Utilities in Economic Development
Also featured in the September issue are Site Selection's annual rankings of Top U.S. Utilities in Economic Development (see list below), based on analysis of corporate end-user project activity in 2018 in those utilities' territories (from Conway Projects Database and submitted materials). In addition to examining facility investment project totals and calculating those projects' jobs and capital investment numbers on a cumulative and per-capita basis, we also looked at website tools and data; innovative programs and incentives for business, including energy efficiency and renewable energy programs; and the utility's own job-creating infrastructure and facility investment trends.
"The elite Top 20 we named this year earned the honor amid a field of around 3,300 electric utilities across the country, including around 900 cooperatives," says Managing Editor Adam Bruns of the rankings Site Selection has published since 1999.
In addition to an array of state and regional spotlights, industry reports and Investment Profiles, the new issue of Site Selection includes stories on transit-oriented development, China's new investment law, California housing solutions, Qatar's economic zones, minority communities and entrepreneurs in the Southeast, and a model eds & meds developer, as well as spotlights on North Carolina, Texas, Idaho, Missouri, Nevada, the Mid-Atlantic and the Upper Midwest.
Site Selection magazine, published by Conway Inc., delivers expansion planning information to 47,000 executives of fast-growing firms. The senior publication in the development field, Site Selection and its affiliated e-newsletters are also available via Site Selection Online. Headquartered in Atlanta, Ga., Conway since 1954 has been a trusted advisor to corporations, government economic development and investment promotion agencies around the world. In addition to also operating a Custom Publishing Division, Conway owns and manages Conway Events; consultancy Conway Advisory; and New York-based Conway PR & Marketing. Conway also manages the Industrial Asset Management Council. Conway and employs over 80 people in 10 offices in seven countries.
2019 Global Groundwork Index Rankings
Global Groundwork Index: Top 10 Countries (combined infrastructure and corporate facility investment strength)
Canada
United States
United Arab Emirates
Australia
United Kingdom
Singapore
Brazil
Mexico
Bahrain
Denmark
Global Groundwork Index: Top 10 U.S. States
Texas
Louisiana
Virginia
Ohio
Illinois
Arizona
Georgia
New York
North Carolina
Iowa
2019 Canadian Competitiveness Rankings

1. Ontario Ministry of Economic Development, Job Creation and Trade
2. Alberta Ministry of Economic Development and Trade
3. Invest Québec

2019 Canada's Best Locations (alphabetical order)

Calgary Economic Development
City of Delta (BC)
Edmonton Global
Ignite Fredericton (NB)
Halifax Partnership
Hamilton Economic Development
Kingston Economic Development Corporation
London Economic Development Corporation
City of Mississauga Economic Development Office (Ontario)
City of Moncton (New Brunswick)
Montreal International
Invest Oakville (Ontario)
Quebec International
Sarnia-Lambton Economic Partnership (Ontario)
Saskatoon Regional Economic Development Authority
Toronto Global
Vancouver Economic Commission
Waterloo Economic Development Corporation
Economic Development Winnipeg
York Link (Ontario)

2019 Top Utilities In Economic Development (alphabetical order)

Alabama Power Company
Alliant Energy
Ameren Corporation
Arizona Public Service
ComEd - An Exelon Company
Consumers Energy Company
Dominion Energy
Duke Energy
Entergy Corporation
FirstEnergy
Georgia Power
Hoosier Energy
Indiana Municipal Power Agency
Kentucky's Touchstone Energy Cooperatives
LG&E KU Energy
NextEra Energy, Inc.
Omaha Public Power District
PECO - An Exelon Company
South Carolina Power Team
Tennessee Valley Authority