On October 19 at the inaugural America's Top Small Business gala hosted by the U.S. Chamber of Commerce in Washington, D.C., 51-year-old fretted instruments store Elderly Instruments won a $25,000 grand prize in the Chamber's America's Top Small Business Awards.
The Chamber's recognition noted that Lillian Werbin, daughter of co-founder Stan Werbin, "runs the establishment with a staff of nearly 40 full-time employees and remains dedicated to valuing not only her team but also her community, taking part in revitalizing Old Town Lansing and actively supporting both national and local nonprofit initiatives that lift the voices of the LGBTQ+ community and people of color within the bluegrass genre."
Chamber contributor Nicole Fallon writes of the shop's economic development impact, "During a period of challenges for the neighborhood, Elderly Instruments not only set up shop but expanded, drawing music aficionados from across the world and bolstering tourism in Michigan's capital. This influx of visitors in turn has encouraged growth for other local establishments."
The store is a member of the Lansing Regional Chamber of Commerce, in a region known more for being the seat of state government and the home of Michigan State University and its powerhouse research assets. But a Main Street designation in 1996 sparked the rejuvenation of an Old Town area that, like many across the country, had seen better days. "Since then," says the Old Town Commercial Association, "crime rates have fallen to the lowest in the city, building vacancy has dropped from 90% to less than 10%, and Old Town is proud to be a home to some of the finest art and entertainment venues in mid-Michigan."
According to the National Main Street Center, its vaunted Main Street America program has spurred $101.58 billion in reinvestment in traditional commercial districts and led to 168,693 new businesses, 746,897 new jobs and 325,119 building rehabilitations since 1980. The program's total dollars reinvested hit $6.45 billion in 2019 before coming down to $4.14 billion in the pandemic year of 2020, but the total has steadily grown since then, tallying $5.76 billion in 2021 and $6.25 billion last year.
Elderly was one of 70 businesses honored at the event after a process that started with more than 15,000 applications. Chamber officials recognized 70 total honorees and six other regional finalists in addition to Elderly Instruments:
Alaska Premier Auctions & Appraisals LLC—Anchorage, Alaska
Calgo Gardens—Freehold, New Jersey
P.L.A.Y. Pet Lifestyle And You—San Francisco, California
River Rock Outfitter—Fredericksburg, Virginia
Shakopee Brewhall - Taproom & Coffee House—Shakopee, Minnesota
Waggin' Tails Pet Ranch—Fulshear, Texas
How do all 70 shake out geographically? I broke it down:
Top States for America's Top Small Business Honorees
| Rank | State | No. of Businesses |
| --- | --- | --- |
| 1 | California | 9 |
| 2 | Texas | 6 |
| 3 | Minnesota | 5 |
| T4 | Georgia | 4 |
| T4 | Michigan | 4 |
| T4 | Oregon | 4 |
| T4 | Washington | 4 |
| T8 | Florida | 3 |
| T8 | Maryland | 3 |
By city, Los Angeles and its metro area lead the way (three in the city, six in the region). The Atlanta, Twin Cities and Seattle metros are solid runners-up:
Atlanta: two each in Atlanta proper and in the Cobb County municipality of Marietta;
Minneapolis-St. Paul: one business each in Bloomington, Chanhassen, Edina and Minnetonka;
Seattle: two in its namesake city and one each in Bellevue and Renton.
The Dallas-Fort Worth metro tallies three companies in the DFW municipalities of Allen, Arlington and Frisco, while the Houston metro area hosts two in the city proper and one in Fulshear. Portland, Oregon claims two as well.
Four of these metros (DFW, LA, Houston and Atlanta) were among the top six in Site Selection's 2022 Top Metros ranking, published in March 2023. —Adam Bruns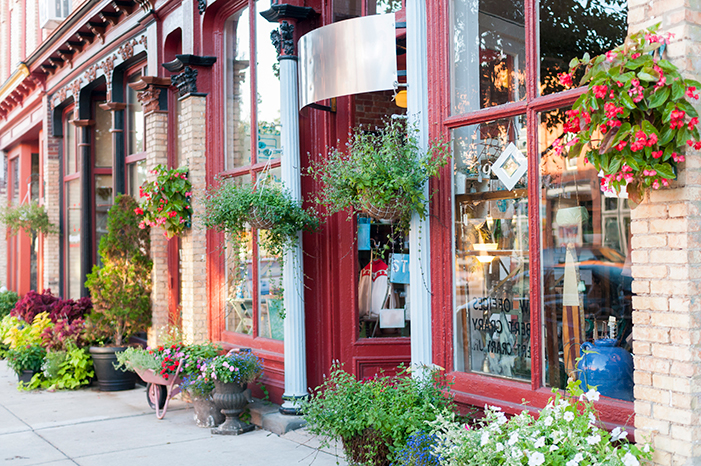 Main Street America programs have spurred $101.58 billion in reinvestment in traditional commercial districts since their debut in 1980.
Photo: Getty Images