FROM SITE SELECTION MAGAZINE, SEPTEMBER 2020 ISSUE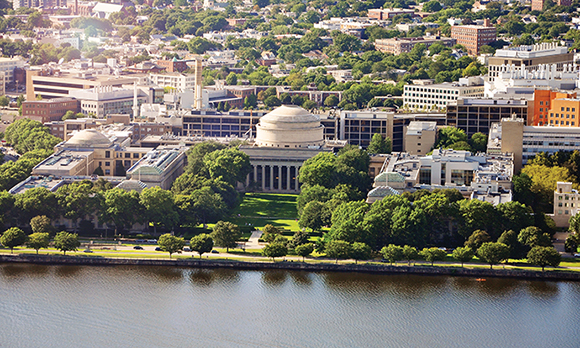 BIOTECH LOCATIONS
A peek into JLL's latest U.S. Life Sciences Outlook report, and what an industry coalition thinks of the latest policy directives from the White House.
CONWAY ANALYTICS SNAPSHOT
Site Selection's Global Groundwork Index partner CG/LA Infrastructure has released its 12th annual Strategic 100 North American Projects rankings, leveraging data and AI — as well as the consultancy's GViP database and 500 project stimulus map — to come up with three lists: the Strategic 100 North American projects, the Strategic 100 U.S. projects, and the Top 100 Impact projects, where the algorithm was adjusted to highlight the advantages of smaller projects that are more likely to happen and move forward more quickly.
But let's think big: Analyzing the Strategic 100 U.S. projects, we find that the states with the most tend to be the states with the most people, with some exceptions: California has seven projects, Texas has six, New York and Louisiana have five each, and Nevada and New Jersey have four each. After them comes a group of 11 states with three projects each. Power generation dominates the list with 28 projects (19 from renewable sources and five from hydropower). Transit follows with 20 projects, followed by power transmission with 10 projects.
Which states have the most expensive strategic project portfolio? It's no contest: From the nation's grand total of nearly $322 billion across the 100, Alaska's three projects include a nice little airport relocation, a Port of Alaska modernization and oh yeah, the $43 billion Alaska LNG Project, for a grand total of more than $44.9 billion, or 14% of the whole country's tab. Next in line:
| | | |
| --- | --- | --- |
| State | Total Value | Sample Projects |
| Texas | $40.2B | Texas Central Railway ($20B), North Houston Highway Improvement ($7B) |
| New Jersey | $36.65B | Gateway Program ($30B), NY/NJ OceanGrid ($3B) |
| New York | $23.2B | Hudson River Tunnel ($11.3B), JFK Airport terminal ($7.4B) |
An $820 million on-dock rail support project at the Port of Long Beach is among CG/LA's Top 100 U.S. infrastructure projects.

Photo courtesy of Port of Long Beach
INDIA
It was a big week in Hyderabad's "Genome Valley," as two separate pharmaceutical companies pledged to invest in big projects. Laurus Labs will set up a $20 million formulation facility that will create 150 jobs in its first phase. And Granules India will invest $54 million in a manufacturing facility that will generate 1,600 jobs in the next few years and have annual capacity of 10 billion dosages. Granules currently operates eight manufacturing facilities around the world, including five in India and one in Virginia, as well as two JVs in India and China. The company already was expanding its plant in Gagillapur, India, which when ready for commercial production in 2021-22 will create 200 new jobs and have an annual capacity of 6 billion tablets. Read Tractus Asia's exclusive commentary about India's aggressive play for global manufacturing in the November issue of Site Selection.
OHIO
Saica Group, based in Zaragoza, Spain, earlier this month broke ground for its first U.S. plant, which will manufacture corrugated packaging. "This event marks the start of ambitious expansion plans for the U.S. market," said Saica Group President Ramón Alejandro. State and local incentives are supporting Saica's investment in Hamilton, said a company release. In June, the Ohio Tax Credit Authority approved an eight-year job creation tax credit to build the new facility in Hamilton, a town 20 miles north of Cincinnati in Butler County that is not to be confused with Hamilton County where Cincinnati is located. However, the town is within the regional mandate of economic development agency REDI Cincinnati. "Saica selecting our region is the direct result of several organizations working together to bring manufacturing jobs here," said Brandon Simmons, REDI Cincinnati vice president of project management.
SITE SELECTION RECOMMENDS
The pandemic has thrown most of us off balance. Yet it's provoked many to discover a new sense of balance as they re-prioritize and reassess. If you're looking for where to reinforce work-life balance, cloud-based access control company Kisi has some ideas in their newly released 2020 work-life balance city index, which examines such attributes as intensity, livability and the well-being and rights of inhabitants. This year's edition factors in the effect of the COVID-19 pandemic on a city's work-life balance in several key areas: the restriction of movement, the severity of lockdown measures, the overall economic impact, and the projected percentage change in employment as a consequence. It encompasses 19 factors analyzing 50 cities in the U.S., followed by a global ranking of 17 notable U.S. cities and 33 international cities that Kisi says, "recognize the importance of a work-life balance, and encourage it both directly and indirectly through policies and urban infrastructure." Among the findings:
Colorado Springs, Omaha and Virginia Beach top the ranking as the U.S. cities with the highest work-life balance score.
Houston, New Orleans and Dallas have the most overworked populations in the U.S. study, while Tucson, Sacramento and Honolulu have the least.
Oslo, Helsinki and Copenhagen top the international ranking as the cities with the highest work-life balance score. Denver is the highest U.S. city in the global ranking at No. 16.
Located in Williamsburg County, South Carolina, the Williamsburg County Spec Building offers 52,000 square feet of newly developed spec space and is located within the county's established 70-acre Williamsburg Cooperative Commerce Centre park. The building features 32-foot ceiling heights and a build-to-suit interior.
If easy access to major markets is what you need, then look no further. This spec building is located on 4-lane Highway 52 just outside of the Town of Kingstree, giving it quick and easy access to Interstate 95 and Interstate 20 to the north and Interstate 26 to the south. It's ideal location also grants access to a sizeable labor force of 194,000 within a 60-minute drive.
Have we peaked your interest? Visit our website today to learn more about this building and the more than 130 properties the North Eastern Strategic Alliance (NESA) region has to offer.
Conway, Inc. Global Director of Training & Events made this photo this week as surfers caught waves as high as 14 feet at Portrush East Strand off the north coast of Ireland. As it's almost November, we are moved to ask the "Monty Python and the Holy Grail"-style question: "What is the average temperature of the North Atlantic Ocean in late October off the North Coast of Ireland?" The answer this week is 54°F/12.2°C, or as one resource puts it, "not yet warm enough for swimming." That doesn't faze our Laura Martin. "I go sea swimming most weeks," she says, "so I can confirm it is very cold."