FROM SITE SELECTION MAGAZINE, MARCH 2021 ISSUE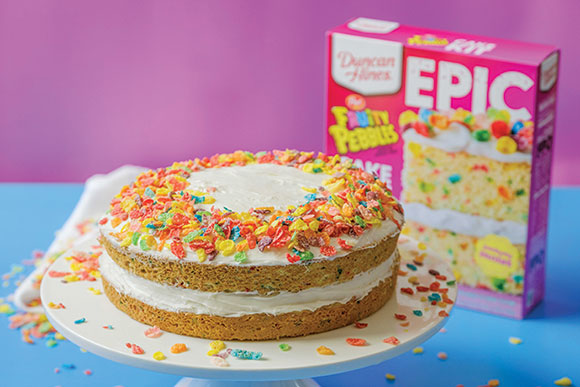 ILLINOIS
Duncan Hines (whose EPIC Fruity Pebbles Cake Kit is pictured here) and Ferrero Group are among the companies expanding across the state.
VIETNAM
Kumho Tire, one of the world's leading tire manufacturers, announced in March this expansion of its Vietnam plant that will double capacity by 2023 to 9.3 million tires per year. "The project for expansion will gradually be funded beginning from the third quarter of 2021 through the first quarter of 2023 in which a new section of the building will be added to the vacant lot space currently within the overall facility compound," the company said. The company's plant in Macon, Georgia, will also expand, adding capacity for another 500,000 units per year by the end of 2022. Kumho is currently operating eight manufacturing facilities located in Korea, China, the U.S. and Vietnam.
MISSISSIPPI
This chemical blending and packaging company has 160,000 sq. ft. of capacity at its headquarters in Chino, California, and until now, had 100,000 sq. ft. at its expansion plant in Olive Branch, Mississippi, located in DeSoto County near Memphis, that primarily mixes liquid detergents and car care products. As reported by The DeSoto Times-Tribune early this month, the company will add a 250,000-sq.-ft. facility to its Olive Branch site, to be constructed on 11 acres the company purchased across the street from its current facility.
SITE SELECTION RECOMMENDS
The emergence of a worldwide network of digital hubs is changing the way global corporations source their rapidly growing digital services needs, says Kearney, which last week released its biannual Global Services Location Index (GSLI). The index analyzes more than 50 countries based on 47 metrics across four main categories: financial attractiveness, people skills and availability, business environment, and "digital resonance" — a new metric that scores countries based on the digital skills of the labor force, digital outputs, the amount of corporate activity, legal protections of intellectual property, and other elements of business activity. India and China held the top two spots, respectively, with Malaysia, Indonesia, and Brazil rounding out the top five. Vietnam, the United States, the United Kingdom, the Philippines and Thailand complete the top 10.
Look for more from Kearney in the May issue of Site Selection, where the the Global Best to Invest rankings incorporate results from Kearney's Global Cities Index and Global Cities Outlook reports.
NEW JERSEY: STATE OF INNOVATION

LOGISTICS
E-commerce means more roofs are on the way to accommodate New Jersey demand.

FOOD & BEVERAGE
New Jersey's food and beverage business grows from the ground up.
DIAMOND SPONSORS
SILVER SPONSOR
Rock climbers do their thing in New River Gorge National Park and Preserve, which just last week became the nation's 63rd national park.

Photo by Ben Amend courtesy of West Virginia Tourism
West Virginia Governor Jim Justice, Intuit Chairman Brad D. Smith and his wife, Alys, and West Virginia University President E. Gordon Gee last week announced one of the more lucrative remote work incentive programs we've seen to date. Ascend WV, geared toward attracting "outdoor enthusiast professionals," offers a base incentive of $12,000 to move to the state to work, plus a bonus of "a year's worth of free outdoor recreation donated by more than a dozen outfitters from across the state." Applications for Ascend WV are now open for the first 50 spots in the host city of Morgantown. Application windows for the program's sister cities of Shepherdstown and Lewisburg will be announced at a later date.
The Smiths made a $25 million gift to WVU's Brad and Alys Smith Outdoor Economic Development Collaborative in late 2020. At the announcement last week, Gov. Justice signed a measure designed to reform corporate income tax laws to make the state a haven for remote workers. "Born and raised in Kenova, it has always been my dream to give back to the state that forever has my heart," said Brad Smith. "Together, Alys and I set forth a vision to create a program that would allow West Virginia to capitalize on workforce trends by leveraging our incredible outdoor recreation assets."
Outdoor recreation can be a lucrative sector unto itself. Watch for coverage in the September 2021 issue of Site Selection.