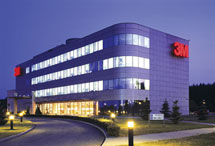 3M Co.'s headquarters complex in Warsaw, Poland.
3M Grows in Poland

The global portfolio of facilities related to liquid crystal display (LCD) technology continues to grow, bolstered by the millions and sometimes billions being spent by companies like Samsung, Sharp and L.G. Philips, as well as their networks of suppliers like IAMC member company 3M Co.
The St. Paul, Minn.-based company announced in December it would purchase a piece of land near an existing manufacturing operation in Wroclaw, Poland, for the construction of an LCD optical film manufacturing facility. Reports peg the land cost at around US$3 million. The facility will start up with 100 employees, eventually ramping up to 500.
"We are building the plant in Wroclaw to be near our customers, such as L.G. Philips LCD, to better serve them and to better serve the largest LCD-TV market in the world," said Andy Wong, division vice president, 3M Optical Systems. "This investment is part of our ongoing commitment to meet the needs of the industry and our customers as we expand existing facilities and build new ones."
Over the last few years, 3M says it has invested to support customer growth in the LCD industry by expanding its facilities in Menomonie, Wis., and Decatur, Ala., in the United States; and by building new facilities in Kansai, Japan; Suzhou, China; Tainan, Taiwan; and Hwaseong and Naju, Korea.
The company's Vikuiti brand optical films are used to make LCD TVs significantly brighter than TVs without enhancement films, more energy efficient and more vibrant in real-life lighting conditions by optimizing and recycling light. Vikuiti technology offers consumers more flexibility to place a TV in a variety of locations in their homes without sacrificing picture quality, says the company.
The project certainly is no sign that 3M is flagging in its U.S. investment. According to its earnings statements, the company in 2005 reinvested approximately $1.8 billion of foreign earnings in the United States pursuant to the provisions of the Jobs Act in 2005.
Mark A. Beattie, Baltimore-based manager of corporate real estate for 3M, is an IAMC member, as is real estate analyst F. Doyle Shea, based in St. Paul.