Name:


Melissa Bauer



Title & Organization:


Real Estate Department,
Quad/Graphics,
Sussex, Wis.



Portfolio:


Over 12 million sq. ft. (1.1 million sq. m.) of owned and leased domestic properties.
What does your company manufacture?
Quad/Graphics
is the largest privately held printer of magazines, catalogs and other commercial products in the Western Hemisphere, and the third largest printer — public or private — in the nation. Headquartered in
Sussex, Wis.
(26 miles west of Milwaukee), the company provides services ranging from front-end design and photography through digital imaging, printing, list management, finishing and dependable distribution.
To whom do you report?
I report to the Director of Corporate Facilities.
How many years have you worked in the profession?
I've been involved in real estate in general for the past 10 years, specifically corporate real estate for the past seven years.
Where and what did you study?
I earned a Bachelors of Business Administration degree in Finance at the University of Wisconsin-Milwaukee. I earned an MBA at Cardinal Stritch University in Milwaukee.
Describe the most important transaction or project for which you were responsible.
A few years ago, we had a package sortation and delivery subsidiary called Parcel Direct with an extremely aggressive expansion plan. We had to locate existing warehouses, negotiate the lease terms and conditions and move in, all within a few short months in multiple cities. This expansion started while we were conducting a site search for print operations, so the volume of work was tremendous.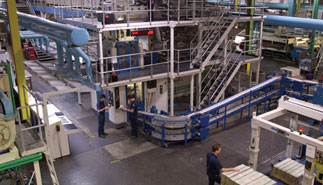 Quad/Graphics' Oklahoma City plant, opened in 2003, was the company's first print-production facility west of the Mississippi River. It has grown more than four-fold since its inception.
Think print media is dead? Not in Oklahoma City. It's one community benefiting from IAMC member company Quad/Graphics' new $1.1-billion contract renewal with Time Inc., which provides for the continued production of 22 titles through the year 2013.
The company's two-year-old Oklahoma City facility will see the creation of more than 50 new jobs in connection to the contract, as it produces extra copies of Time, Sports Illustrated and People that are called for in the contract beginning in January 2007. Joel Quadracci, president and COO of Quad/Graphics, said that because Quad/Graphics has chosen to grow its manufacturing operations organically throughout its 35-year history, "each of our plants is identically equipped and run, delivering consistent, streamlined service to multi-plant customers like Time Inc."
What is the biggest professional challenge you face on a regular basis?
As in many real estate professions, the biggest challenge we face is the ever-changing business climate — we are no different at Quad/Graphics. We are constantly searching for the best real estate practices within our industry so we can remain competitive and flexible to maximize our profitability.
How is the role of manager of real estate evolving?
Our business is extremely competitive driven by rapid changes in technology, so the role of the corporate real estate manager is ever changing. We are constantly reviewing our real estate strategies and market analysis for creative solutions to meet the corporation's short- and long-term financial plans.
The core competency of real estate professionals is not limited just to transactions — we must be involved with the strategic planning for the corporation, which incorporates a 360-degree review of the entire organization.
Which technology do you consider to be essential in your professional life?
Our real estate database was created in-house. We are constantly refining it for better reporting capabilities, and thankfully we have several IT professionals dedicated to helping us achieve our goals.
What is the value of IAMC membership to you?
Membership in IAMC provides an opportunity to network and strategize with other real estate professionals from manufacturing companies. The peer-to-peer sessions at the Professional Forums are invaluable. There is always a way to build a better mouse trap.