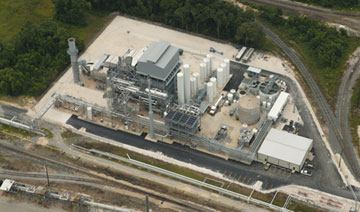 Air Products' hydrogen production plant in Westlake, La., started up in spring 2004. It serves ConocoPhillips and extends Air Products' West Gulf Coast hydrogen pipeline network approximately 40 miles (64 km.) to Lake Charles.
Before its first one was even finished, Lehigh Valley, Pa.-based IAMC member company
Air Products and Chemicals Inc.
announced in January that it would construct a second hydrogen production plant in Edmonton, Alberta, to serve Petro-Canada's 135,000 barrel-per-day refinery and other customers.
The new facility, the first in Canada to provide a sale of hydrogen for use in the upgrading of Canadian oil sands, will be owned and operated by Air Products under a long-term agreement. Expected on-stream in April 2008, it will pump out 105 million standard cubic feet per day (mmscfd) of hydrogen.
The company's first such facility, with a projected capacity of 71 mmscfd, is expected to come online in April 2006. The two facilities will be interconnected.
The Alberta projects are just the tip of the company's current slate of North American hydrogen projects. In addition to another Canadian facility expected to open in Sarnia, Ontario, in May 2006, the company is now building plants in Port Arthur and Baytown, Texas; Convent, La.; and Joliet, Ill., all coming online in 2006.
Company spokesman Art George said the company refrains from announcing capital investments in the projects for competitive reasons. A 100-mmscfd plant in Carson, Calif., that broke ground in 1998 carried a price tag of $80 million.
Eugene D. Ervin
, director of real estate and property management, and
Susan Reber
, real estate manager, are both IAMC members from Air Products and Chemicals.