IAMC member company
Lockheed Martin
is selling 51 acres (21 hectares) in Sunnyvale, Calif., to San Francisco developer Jay Paul Co. for an eight-building Moffett Towers project that could result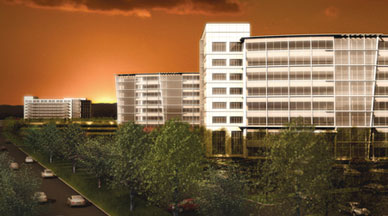 An artist's rendering of the proposed Moffett Towers project in Sunnyvale, Calif., on land sold to the developer by Lockheed Martin.
in upwards of $500 million invested, according to the
San Jose Mercury News
.
Pending city council approval, the 1.6-million-sq.-ft. (148,640-sq.-m.) project would break ground in 2006 and see its first tenants by the end of 2007. Jay Paul Co. is the developer of Technology Corners@Moffett Park in Sunnyvale, a development that is home to such companies as Juniper Networks and Motorola. In fact, 40 acres (16 hectares) of the land occupied by that development was also sold to Jay Paul Co. by Lockheed Martin, in 1999, which resulted in development of the 715,000-sq.-ft. (66,424-sq.-m.), four-building Ariba Plaza, fully leased by Ariba. In 2000, Lockheed Martin sold another 40 acres to Juniper.
The area was recently described as relatively affordable for the region in a Wall Street Journal community real estate profile. Area companies Google and Yahoo are both reportedly in the market for substantially more space. Lockheed Martin Missiles and Space Systems employs 6,500 at its 412-acre (167-hectare) satellite development and manufacturing plant in Sunnyvale and operates a 500-person advanced technology center in Palo Alto.
Terri Beattie
, president of LMC Properties of Bethesda, Md.-based Lockheed Martin Corp., is an IAMC member.
---
West Coast Offense
IAMC member company
CN
announced in December it would increase its capital spending in 2006 by nine percent, or US$1.3 billion. The railroad will spend approximately $695 million on its infrastructure, replacing rail,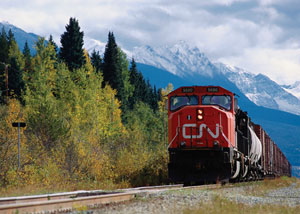 A CN freight train at Canoe River, British Columbia.
ties, ballast, and other track material and upgrading bridges and signalling systems. CN will also spend $217 million on network productivity initiatives and strategic projects, including siding extensions in Western Canada, investments in the company's Prince Rupert, B.C., corridor, and the reconfiguration of Johnston Yard in Memphis, Tenn. Finally, CN plans to spend close to $130 million on facilities, information technology and other projects to allow the company to "tap new growth opportunities and drive overall efficiency gains."
The announcement followed on promises by Canada's federal government to throw its own support behind a Pacific Gateway Strategy designed to strengthen the competitiveness of the British Columbia ports of Vancouver and Prince Rupert. The company continues to develop a terminal in Prince Rupert that will open in early 2007 and help to move some Asian container traffic to CN's North American markets.