People Issues
Scherrens says UPS's network planning group did feasibility studies for other sites and considered several options, including greenfield sites. But the financial radar indicated Louisville as the winner. That doesn't mean there weren't some blips to get past first, he says, noting that demographics are always an issue.
"Part of the negotiation with the city and state was about continued support for Metropolitan College, and looking at ways we could expand it," says Giuffe of the novel arrangement whereby local higher education institutions have partnered with UPS in a program that pays full tuition for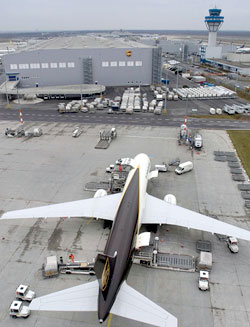 The UPS hub expansion in Cologne/Bonn, completed in early 2006, takes hub capacity to 135,000 packages per hour, using some of the same technology that WorldPort employs.
students who work at the hub at night and attend specially scheduled classes by day. Giuffre notes the job count associated with the new heavy freight facility, as well as a new 1.3 million sq. ft. (120,770 sq. m.) under roof within the company's Supply Chain Solutions (SCS) division, all within a few miles of WorldPort.
"We really had to re- look at and redraw how the Metropolitan College program was originally written in order to assure funding and that it could continue to grow," says Giuffre, who says the project's 2005 goals were met by 2001.
As originally written, the program was allotted a specific dollar amount of funding from the public coffer, and over time the original 50/50 split in funding had shifted in flight, causing UPS to bear more than its share.
"Now it's balanced out more," says Giuffre, calling it a one- of- a- kind program that truly brings together the university, business, elected officials and citizens of the community. That's fitting for a hub that originally was shown to have an economic impact of more than $600 million a year. The Kentucky Cabinet for Economic Development says the direct annual economic impact of this project's new full- and part- time jobs alone will be approximately $344.8 million. Indirect and induced jobs will add just over $400 million, for a total annual economic impact of approximately $745 million.
Around 1,700 students currently are in the program, which involves the University of Louisville and the Jefferson Community and Technical College system. Those student numbers "will grow as we expand employment with the freight facility as well as WorldPort," says Giuffre. The state projects that as many as 2,200 new students will enroll by 2010.
John Hindman says the company and its partners have been able to tweak the program through the years. At one point, final exams and holiday breaks were coinciding with peak sorting season, so the academic schedule has been adjusted. The high school- oriented school- to- work program, focused on the company's day sort operation, has evolved into a natural feeder for the Metropolitan College program. And the company has added a successful mentoring program to go with its recruiting program, which in 2003 was shown to have successfully drawn workers from nearly every one of Kentucky's 120 counties.
To top it all off, before Metropolitan College, UPS had a 70- percent turnover rate on its night sort. Today, UPS has a retention rate over 80 percent. Hindman calls that unexpected consequence of the Metropolitan College program nothing short of "wonderful."
The company has also hired 300 new pilots in the past year and a half, and this summer concluded successful negotiations with the pilots union. The company has added plenty of technical jobs to its payroll too. And Giuffre cites state figures noting that more than 90 companies have moved to or expanded in the state over the past five years in part because of WorldPort, investing more than $1.2 billion and bringing more than 13,300 new jobs.