Busy Middle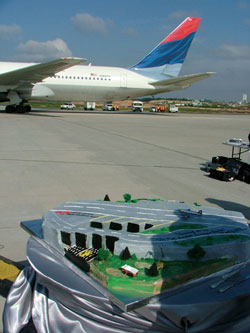 In May, the world's busiest airport, Hartsfield- Jackson International Airport in Atlanta, opened a $1.25- billion runway so it could get busier. Currently ranked 10th in U.S. air- cargo traffic, the airport looks for the new runway to boost that ranking in addition to serving its leading role as a passenger facility. May also saw the opening of an eighth berth at the Port of Savannah four hours to the east, a $109- million investment that reflects the port's growing activity as a Panama Canal- driven alternative to West Coast ports, in addition to its equally strong activity from other points on the globe.
Major U.S. logistics hub expansions seem drawn to the nation's middle like fish to water.
DHL
continues to expand its hub in southwest Ohio, and Memphis- based
FedEx
this spring announced an 800- job expansion at the second- busiest (after Memphis) of its six domestic hubs, located at Indianapolis International Airport.
The expansion by FedEx Express, expected to be operational by peak season 2008, will take employment to 5,000 and increase package processing capacity by 30 percent to 99,000 packages per hour, in part to help meet demand for international package processing.
The hub, which opened in 1988, last expanded in 1998, when it tripled capacity. That was about the same time UPS WorldPort was getting up and running.
An extended lease agreement to 2028 includes the provision for 14 additional aircraft gates at the hub, taking the total number to 75. The airport authority will fund, build and lease back five of the gates by December 2006, with options on the additional nine extending to Dec. 1, 2008. New facility construction will include:
• A 400,000- sq.- ft. (37,160- sq.- m.) expansion to the hub's existing sort facility.
• A 175,000- sq.- ft. (16,258- sq.- m.) secondary sort building.
• Two maintenance buildings, including a 40,000- sq.- ft. (3,716- sq.- m.) facility for aircraft maintenance and a facility for ground support equipment.
FedEx's other domestic hubs are in Memphis, Tenn.; Newark, N.J.; Fort Worth, Texas; Oakland, Calif.; and Anchorage, Alaska. FedEx also is building a hub in Greensboro, N.C., scheduled to be operational in 2009.
The adoption of daylight savings time by the state of Indiana in 2005 certainly removed one sticking point for a company like FedEx, which found that changing employee schedules twice a year to accommodate Indiana's former time- zone oddity meant much higher employee turnover, as well as changed cutoff times for customers.
"I don't know if it played a material role but it does remove an obstacle," says Indiana Gov. Mitch Daniels. "When FedEx made its announcement, they expressed their happiness we had gone to Daylight Savings time, and they said it cost them $1.3 million a year to change the schedule twice year."
Trucking companies had the same issue, says Daniels: "Another company didn't have us on their list because they didn't want to mess with our half- and- half time system."
Contributing to a welcoming environment for FedEx growth was a $170- million upgrade of I- 70 in Indianapolis that was completed in 2004. The state's strong medical device and biotech sectors certainly fit in well with more hub capabilities too. Jo Ferreira, managing director, hub area business development, for FedEx Services, says she is working anywhere from 40 to 50 projects at any one time for customers considering facilities near FedEx hubs. She says from 30 percent to 40 percent of the inquiries are from the medical field, with 20 percent to 30 percent in electronics and a health portion in consumer goods.
That latter category fits in well for Indy too, given its leading profile on the national distribution scene, including recent headliners from such companies as
Nestlé
and
Sysco
. Among the shiny new distribution projects on the metro area's slate is the 882- acre (357- hectare) CentraLogistics Industrial Park in the Plainfield- area community of Washington Township, in Hendricks County not far from the airport's boundaries. The park will see an investment of $700 million in 11 million sq. ft. (1 million sq. m.) of distribution center space from Indy- based Browning Investments. Added infrastructure investment from Plainfield will facilitate the project, as well as open up opportunity at an adjacent 400- acre (162- hectare) parcel in the town of Avon.