One Layer at a Time
Working with Scherrens are Todd Taylor, project manager, and Jon Brugman, vice president of plant engineering for UPS Airlines. Together they manage all aspects of logistics, vendor coordination, general and ramp construction as tangible assets get added to the site. Scherrens focuses on systems integration, including IT, industrial engineering, operating plans and the financial aspects of the project. "It really is a program," he says, involving cross- functional responsibilities and making sure the entire team – both engineering and business sides – stays on schedule and on budget. In fact, even though the $1- billion figure is a handy one to tout, Scherrens the engineer points out that the project is currently on a budget of $983 million.
The WorldPort expansion adds more wings on the ground in order to accommodate more wings in the sky. At buildout the facility may be able to fit as many as 136 sets of aircraft wings on the ground at one time.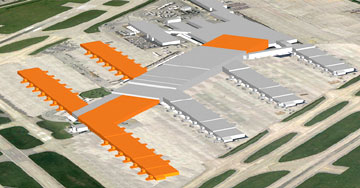 Asked how the WorldPort expansions have layered over one another in terms of both timetables and implementation of latest technology, Scherrens says since the company's arrival in 1981 its rapid growth in the overnight business had necessitated a series of reactive expansions.
"From 1981 through 1997, every expansion was a just- in- time expansion," he says, "based on traditional material handling and bulk flow systems, with the addition of 20,000 pieces per hour here, 20,000 there."
That worked until a certain tipping point was reached.
"In 1997, we needed to shift to a larger scale," says Scherrens. "Due to the scale and the number of employees we needed, we needed to change the technology, so we appropriated for Hub2000. It replaced all inbound technology with an automated process, and replaced the need for people who actually sorted down to zip code detail. All packages now get unloaded into an automated system. From there, data becomes the most important thing."
The phased ramp- up of that automation has helped the company achieve a sort capacity in excess of 300,000 pieces per hour, which Scherrens says again has exceeded UPS expectations.
"An average day sees us sort 1.2 million and as high as 1.5 million packages," says Todd Taylor, fresh from the operations side. "And during peak season, we sort close to 2 million packages in a 24- hour period for almost a week."
Giuffre notes that the hub has been designed to be scalable, knowing that automation technology would evolve. He says the company's expansion in Cologne/Bonn, which has taken capacity to 135,000 pieces per hour, uses much of the same technology, as do other facilities.
"We're constantly evaluating technology and what it can do for us, just like with your computer at home," says Taylor. "We've been open for four years, and we've already replaced and upgraded the original database servers."