Decongesting: One Railroad's Story
Urgency and railroad capacity are paired in North America too, in some ways for the same reasons.
From the coal fields that serve a continent's industrial power needs to the nodes that distribute those industries' products, the North American rail community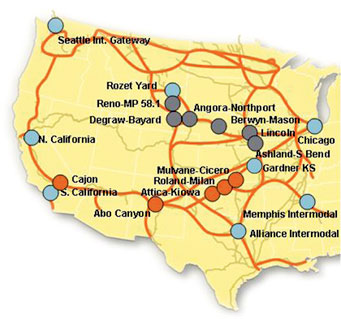 Like its Class I competitors, BNSF is seeking out intermodal expansion opportunities at strategic points along its mainline, highlighted in blue above. The orange and gray circles indicate where the railroad is investing in capacity upgrades along its routes, including double- tracking all the way from L.A. to Chicago that will be complete in early 2008.
is investing in multiple directions in order to keep things humming. The projects range from double- tracking to ports, the latter bookended by
CN
's alliance with the Port of Prince Rupert in British Columbia and Kansas City Southern's alliance with the Port of Lazaro Cardenas on the Pacific Coast of Mexico. Their gambit? That unimpeded direct- cargo rail from remote ports will beat congested rail and road traffic to the continent's center every time.
Intermodal is central to every railroad's plans to deal with capacity and congestion issues. CN, for example, is not only ramping up a new intermodal facility in Memphis, but planning a network of them on the route back to Prince Rupert in order to fill empty containers for their trip back to Asia.
Union Pacific
is investing in a $90- million, 300- acre (121- hectare) intermodal terminal in San Antonio that will process 100,000 container and trailer lifts annually.
CSX
, in addition to an intermodal park just now being launched in Winter Haven, Fla., is also surveying northwest Indiana for a similar- scale project.
BNSF
also is investing in multiple projects that illustrate the urgency, including a proposed 1,350- acre (546- hectare) intermodal logistics park in Gardner, Kan., that is now in the planning stages, with the railroad on the cusp of picking a development partner at the same time that the community of Gardner weighs whether it's worthwhile to annex the property where the project would take place. Construction of the $154- million intermodal facility would begin in 2007, with warehouse and distribution construction to begin in 2009. The BNSF facility alone would create 143 jobs initially.
But the BNSF investment and those investments that will be made as the logistics park develops may reach $1 billion in the next 20 years.
BNSF spokesman Steve Forsberg tells
Site Selection
that Gardner, "is the only option that made sense for us. There are options for Gardner, for example on electricity they could allow Kansas City Power & Light to handle it. Gardner will go through a good deal of analysis to make an informed decision as to whether it wants to annex the site or not. Our development is on an independent timeline from what Gardner is engaged in."
In the meantime, BNSF is proceeding with acquisition of the real estate, and is now in the process of exercising those options, says Forsberg, expecting the development partner to be selected by September. As of late July, the company had purchased slightly more than 300 acres (121 hectares), most of it undeveloped agricultural parcels. Forsberg says three things are needed for a successful logistics park: 1) a large piece of undeveloped property as close as possible to the heart of the region's largest metro area; 2) proximity to an existing high- volume intermodal route; and 3) proximity to an Interstate freeway. "Those were in place at Alliance [in Texas] and at Logistics Park Chicago, and that's the reason why this site emerged as far and away the most promising for a logistics park," he says.
Asked if local concerns about increased truck traffic on I- 35 and surrounding thoroughfares are valid, Forsberg points out that this is the chief misperception attached to the project.
"We see the reverse," he says. "Trucks are not the reason for the traffic congestion that exists. Secondly, Gardner is one of the fastest growing cities in the county – we show 58,000 people in 2025 when this facility is built out. So Gardner is rapidly changing from this slower- paced town, now up to 17,000 people and adding 500 homes a year. As with so many metro areas in the country, we have bedroom communities without jobs nearby with shorter commutes – traffic engineers talk about this constantly. The attractive thing about a development like this is a huge number of new jobs that provide new or existing residents with a much shorter commute, because most people who live in Gardner have to drive elsewhere now."
Forsberg also says total truck traffic at build- out will only add about 10,000 total truck trips, a small proportion of the 59,000 new vehicle trips initially reported as associated with the new facility. And a large number of those truck trips are not on freeways, but rather the short trips back and forth to nearby distribution centers.
"The other thing people didn't fully grasp is that it is like a freight airport," he says. "It draws and feeds traffic within a 250- mile (402- km.) radius, just like you have people in Wichita who will drive up to KCI [Kansas City International Airport] to catch planes. In the intermodal realm, we have truckloads from Wichita, Springfield, Mo.; Norman, Okla., St. Louis – and because all this will be on the southwest side of the metro area, all the traffic from the south will not have to drive as far."
Forsberg says the BNSF project is very much in line with, rather than opposed to, what K.C. SmartPort is trying to accomplish with its plans of hooking into the Lazaro Cardenas port via the Kansas City Southern network.
"Kansas City Southern has a different route structure," he says, "and based on growth projections for international trade with Asia, the challenge is how you develop enough capacity to deal with all the trade."