Pick Your Mode
Knutsen says the enticing landscape for logistics company synergy is illustrated by a recent joint venture buyout by FedEx that will essentially double FedEx's work force in China and give it 100 locations in the country. An acquisition by TNT Logistics means it now has access to a fleet of 3,000 trucks. And Yellow Roadway has also ramped up in dramatic fashion through acquisition.
Knutsen says that he's seeing good new warehouses as far west as Chongqing, with big U.S.- based players also making investments in Wuhan ("the Chinese Chicago"). It's no accident that the cities are ranked fourth and third, respectively, as vehicle production bases in all of China. He says Wuhan, though it does not accrue Go West incentives, is a crucial crossroads with two strong ports and a new rail hub nearby. Chongqing, meanwhile, is "a better example of what shipping on the river can do," he says. "It's the last major container stop on the Yangtze, with two container handling ports. This is all being plugged into an expressway and rail system that is just coming into place. It's pretty remarkable for a city known as Mountain City."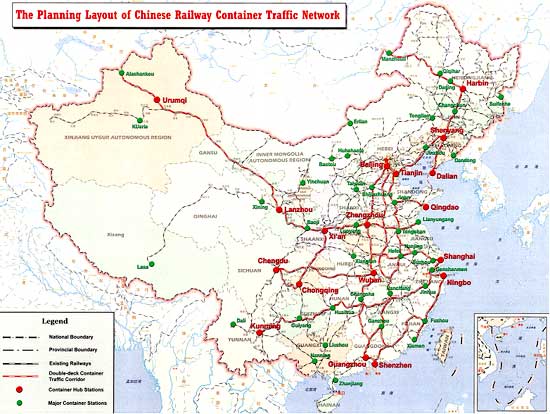 Source: Deloitte
Given the country's vast highway investment, truck is the most viable shipping option for many, but is also the most expensive, in part because so little is actually containerized, and in part because so many of the expressways are underwritten by tolls, which Knutsen says run about 18 cents per km. or 29 cents per mile. Overload fines are becoming stiffer, the government is cracking down on garages that retrofit trucks to overload and a fuel tax is still under consideration that could be anywhere between 20 percent and 50 percent.
Asked later about an industrial company's difficulty in finding chlorine in suitably big containers, Knutsen tells
Site Selection
the packaging/regulatory challenge extends across other industries.
"In January, for example," he writes, "China issued new rules governing the use of wood packaging (pallets and crates) which will affect 3PLs and their customers in China (as well exporters to China). With chemicals, at least some of this regulatory activity is in response to public pressures and the government's related attention to the impact of growth on the environment. On the Yangtze, where many chemical companies operate, new regulations on how certain chemicals can be shipped on the river have also recently been introduced."
Meanwhile, trains on China's 40,000 miles (64,360 km.) of railroad are still heavily preoccupied with ferrying coal around the country: "Demand has outstripped supply for 20 years running," says Knutsen. "There were 2.3 billion tons of goods moved in 2005, of which 43 percent was coal."
Coming to the rescue may be the Chinese Railway Container Transport Co., which plans 18 major intermodal rail hubs by 2010, all linked by double- stack container service, along with 40 mid- size stations. In total, says Knutsen, the nation is shifting its infrastructure focus from road to rail, planning to invest $240 billion in the rail network by 2020. In tandem with that goal, it plans to reduce road freight by 1 billion tons. Though no time frame has been specified for that latter goal, Knutsen writes, "When China commits to infrastructure projects, their track record for follow- through has been pretty good."