Talent Pools Lure
Life Sciences R&D
op research talent is always at a premium, especially in the life sciences sector. Proximity to a well-stocked pool of this coveted human resource was a major factor in
Stiefel Laboratories
' recent decision to locate its August C. Stiefel Research Institute in North Carolina's Research Triangle Park, one of the recognized hotbeds of life science activity. Stiefel plans to invest more than US$50 million to buy and refit a 150,000-sq.-ft. (14,000-sq.-m.) facility formerly occupied by a division of Eli Lilly.
Stiefel, a pharmaceutical manufacturer founded in 1847, is based in Coral Gables, Fla., and specializes in dermatological products. It has facilities around the globe, including the current location of its research institute, the Albany, N.Y., suburb of Oak Hill.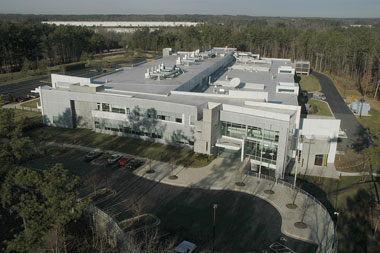 The August C. Stiefel Research Institute is moving into a building formerly occupied by Eli Lilly in North Carolina's Research Triangle Park. The company plans to employ 200 researchers at the site within the next five years.
The research operation planned for North Carolina will work in conjunction with Stiefel's international R&D centers in Maidenhead, England, and Bonsucesso- Guarulhos, Brazil, in new product development. Stiefel, which employs about 2,800 globally, expects the North Carolina facility to begin operations by October 2006.
Matt Pattullo, Stiefel's senior vice president for global resources, says that while the company did a thorough search and considered locations in several states, the North Carolina site allows the opportunity for a rapid move.
"We wanted to be close to research talent as well as other vendors that support the pharmaceutical industry, whether that's consulting firms, recruiters or anything needed to support an R&D facility." Pattullo says. "Recruiting is always a challenge to find the right person — any company has that challenge. At our facility in Oak Hill, it has been difficult to find the numbers we want to increase the staff.
"We also wanted a placed that was going to be accessible," he adds. "North Carolina may not have the most accessible airport for international flights, but it is accessible from the U.S. Our hope is the international capacity will expand as continued growth around Research Triangle Park creates demand."
Pattullo says he hopes to begin moving personnel into the building by summer, with it becoming operational by fall. Currently, Stiefel has 45 R&D-related positions at its Oak Hill facility. He says the staff has been offered the opportunity to move south and he hopes many of them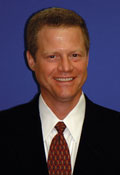 Matt Patullo is Stiefel's senior vice president for human resources.
will do so. The discovery of a building that fit Stiefel's needs was another major draw to the RTP site.
"The facility availability and scalability was a major factor," Pattullo says. "One of the things we needed was to have a location that could grow with our work force in size and scope, and what quickly became apparent was that we needed a facility that was closer to occupancy."
Pattullo says a build-to-suit option would have taken about two years to have up and running. "That was an issue for us," he says. "We wanted to move forward with our center of excellence, and an extremely attractive facility in North Carolina was available."
The move will not affect Stiefel's Coral Gables headquarters operation, which also houses administration for its Latin American operations. Pattullo says the RTP site will house about 100 employees during the first year of occupancy with rapid growth anticipated. Projects call for a work force of 200 within five years. Pattullo says the personnel Stiefel will seek for the North Carolina site will have a minimum of a "scientific" bachelors degree with many positions requiring advanced degrees.
"It will be a highly educated staff," he says.
Pattullo says state and local officials put out an enticing welcome mat.
"They did an exceptional job of making us feel wanted, both from simply the attention they gave us and the follow-through, as well as the negotiations related to the incentive process," Pattullo says. "They were very responsive to us and worked with us from the first time we visited. They certainly made us feel like we were someone they truly wanted and it wasn't just window dressing. You've got to have the product first — just because an economic development group was good or bad did not affect our decision. But as we continued on, it certainly helped North Carolina stand out in the process. You can stand out in the process, but you need to back it up. North Carolina backed up what they said they were going to invest in us and that speaks well of that group."
Average pay for Stiefel's RTP employees will be $71,750 per year. Stiefel is the first 2006 recipient of North Carolina's Job Development Incentive Grant (JDIG). Under a nine-year plan, Stiefel could receive up to $3 million if it creates all of the jobs called for under the agreement and sustains them. The company also could receive approximately $1.7 million in tax credits and funds for training. Stiefel employed N.J.-based The Boyd Company in its site search, which initially looked at the entire U.S. before narrowing to nine locations in seven states outside of the company's current facilities.
Pattullo says Stiefel's first-year investment in the facility will be more than $50 million, which includes the purchase of the building, transfer of equipment and other ramping up costs.
Quality-of-life considerations also played into Stiefel's decision-making process.
"We wanted to move to an area where it wasn't too congested with traffic and not too populated. Life can be stressful as it is. We wanted an area with a lot of opportunities to explore the outdoors type of things and not have to deal with big cities. North Carolina was very appealing for that kind of atmosphere."
Pattullo says Stiefel's New York staff has been especially interested in these details. He says their desires are to be in a situation where they can distinguish themselves and also have the opportunity for some life outside of work.
Sean Nugent, director, global facilities for Pfizer Corp., says there's a lot more retraction than expansion going on in the life sciences sector with companies looking at optimization of facilities following mergers and acquisitions. Against that backdrop, talent stands out.
"You want the ability to have resources close to you, especially in life sciences where you need advanced degrees," Nugent says. "Companies are looking for areas with good education systems and to tap into the intellectual capital pool of the area. Folks also want affordable housing."
With many states and cities offering lucrative incentives to entice life sciences firms, that talent pool and its support system can often tip the scale if everything else in the equation is equal, Nugent says. Areas successful in cultivating life sciences development have good cooperation between government and research universities. A cluster often begins from one or two success stories coming out of universities, he says.