Toronto's MaRS District Off to Celestial Start
Toronto's MaRS Centre is one of North America's largest ongoing life sciences R&D developments.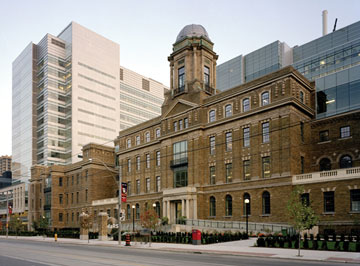 Toronto's MaRS Centre has now filled its first phase with a broad mix of life science tenants and firms serving the sectors. Planning for MaRS' second phase is under way.
The Centre's first phase, a 700,000-sq.-ft. (65,000-sq.-m.) facility, is now full, and project administrators are now recruiting firms for the 850,000-sq.-ft. (79,000-sq.-m.) second phase.
The first phase, which includes a renovated section of the former Toronto General Hospital, and new 15- and eight-story towers, has a varied tenant base that includes a 24-firm incubator for operations of large pharma companies including Merck, GlaxoSmithKline and Astra Zeneca. Tenants also include law firms specializing in intellectual property issues, venture capital specialists, accountants and other vendors crucial to the success of the life science sector.
MaRS originally stood for "Medical and Related Sciences," but since the project has evolved to include other disciplines such as IT and nanotechnology, it is now known simply as MaRS.
"The first phase is very chemistry-focused and biotech firms are predominant," says Dale Martin, head of the real estate grouop at MaRS. "We've got quite a mix. We've got some IT companies and also some hybrids of IT and medical sciences."

Dale Martin is head of the MaRS real estate group.
One of the last large tenants to move into the first phase is a division of Salt Lake City-based
NPS Pharmaceuticals
, which moved its Canadian R&D operations into MaRS.
"The next phase will have a more conventional real estate approach with Colliers doing a global search for us," Martin says. "It will probably have more of a global mix than the first phase. We want some new entries into the market. We didn't have to recruit for the first because there was enough pent-up demand in the area for space. We started with small users, then targeted big users."
Martin says MaRS has two major drawing cards: a central location in the downtown of a cosmopolitan city and proximity to a region ripe with R&D talent. "Being downtown in a vibrant city is absolutely a huge factor," Martin says. "We know that is true on the pure science side, but its also true in attracting the best and brightest to venture capital and law firms and all areas in the building. Everyone is saying the same thing."
Tales of Two Rochesters


Rochester, Minn., home of the Mayo Clinic, and Rochester, N.Y., home of the Rochester Institute of Technology, are no strangers to research. Both locations have biotech research facilities in the works. The Minnesota Rochester is developing plans for a $28.5-million Bioscience Development Center. The project will connect with the Mayo Clinic-University of Minnesota Genomics Research Center. The project is targeted at bringing research grants and top scientific talent to the state.
In Rochester, N.Y., work is moving towards a summer completion of the Rochester Institute of Technology's $14-million, 35,000-sq.-ft. (3,250-sq.-m.) Center for Bioscience Education & Technology (CBET).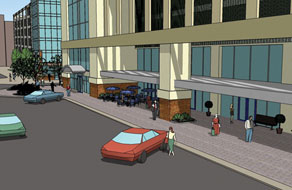 The City of Rochester, Minn., is developing the $28.5-million Bioscience Development Center to lure scientific talent to the state.
MaRS Discovery District and the Ontario Research and Innovation Optical Network (ORION) recently agreed to collaborate and to connect the MaRS facilities with an ultra high-speed optical fiber connection to Ontario's advanced, fully optical R&E (research and education) network. As a result, MaRS obtains significant, virtually unlimited bandwidth to support its activities, including advanced videoconferencing capabilities and the ability to offer collaborative technology services at extremely high speeds.
"Advanced networks like ORION are part of the new critical infrastructure for global research and innovation, and it's important that MaRS connect directly with colleagues and researchers here at home in Ontario and around the world," said MaRS CEO Dr. Ilse Treurnicht. "This agreement allows us to leverage significant provincial investments in landmark research-support initiatives. It will certainly help strengthen Ontario's position as a pre-eminent location for research and innovation," she said.
"Few jurisdictions can match what we now have in place here in Ontario," said ORION President/CEO Phil Baker, emphasizing that this new partnership extends MaRS' access to 21 Ontario cities and lays the foundation for expansion of research collaborations, extending the benefits of new research capabilities to all regions of Ontario.
The new gigabit connection allows MaRS to collaborate with ORION's connected institutions, including all Ontario universities, most colleges, several teaching hospitals and numerous research institutions.