Texas Has Big Hopes for Genomics Institute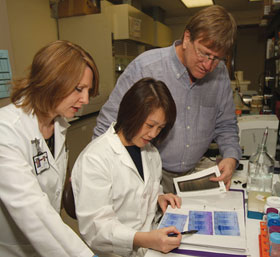 In a lab in the Texas A&M System Health Science Center College of Medicine's department of medical pharmacology and toxicology, lab manager Tammy Aaron, Dr. Yan Zhang and Dr. Warren Zimmer examine a polyacrylamide protein gel, which provides information about proteins expressed in a knockout mouse created by Dr. Zimmer for a study on prostate cancer.
Texas officials are hoping the Texas Institute for Genomic Medicine (TIGM) will accelerate development of the state's biotech industry.
TIGM got its funding start last July from a $50 million grant from the Texas Enterprise Fund. State officials project that TIGM could bring 5,000 jobs to the state over the next decade and also facilitate creation of new biotech firms.
Lexicon is using $35 million of the award to create two copies of its mouse cell line library and provide them to TIGM. One will be housed at the Texas A&M University Health Science Center's Institute of Biosciences & Technology in Houston and the other at a new facility to be built in College Station at Texas A&M. The A&M system is using the remaining $15 million to build the new facility in College Station.
Using its patented gene knockout technologies, Lexicon Genetics is creating for the Institute a comprehensive knockout mouse embryonic stem cell library containing 350,000 cell lines. When complete, the new library is expected to be the world's largest collection of mouse embryonic stem cells that have been engineered for the study of gene function, allowing researchers to identify genes that could lead to advancements in human healthcare.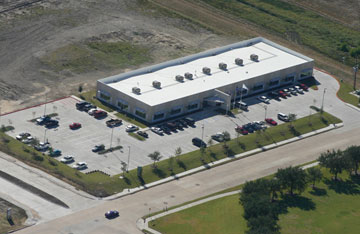 Spectracell recently moved into its new headquarters in Houston.
The Institute will make cells from its library available to researchers worldwide.
Also in Texas,
SprectraCell Laboratories
has moved into a new headquarters facility in Houston that includes laboratory space. The company was established in 1993 to commercialize a diagnostic blood test developed at the University of Texas. SpectraCell has become a major provider of tests for identifying nutritional deficiencies.
San Antonio's Brooks City-Base is the site of a new R&D, warehouse and production facility being built for DPT Laboratories, a division of
DFB Pharmaceuticals
. The first phase of the project is a 224,000-sq.-ft. (20,800-sq.-m.) distribution center and more than 15,000-sq.-ft. (1,400-sq.-m.) for quality control laboratories. The $24 million project includes a 34,000-sq.-ft. (3,200-sq.-m.) research center.