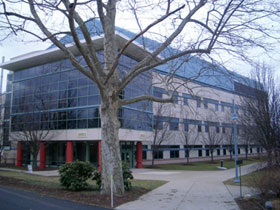 Rhodia moved its North American R&D operations from Cranbury, N.J., to Bristol, Pa., in 2005.
Rhodia's Search Splits R&D from U.S. HQ
Rhodia North America
, the U.S.-based subsidiary of the French conglomerate, recently completed site searches for its new headquarters and R&D facilities. The headquarters wound up staying in Pennsylvania, while the lab space wound up in New Jersey. Through acquisitions, Rhodia inherited a large campus-type complex in Cranbury, N.J., constructed in the 1950s, and had made its home there for the past 15 years. Over time, the campus became too large for Rhodia's needs.
"When we began our search, we had been downsizing our headcount at a 14-building, 83-acre [34-hectare] campus that was too large," says Ed Petrie, Rhodia's director of site services. "We didn't want to be a landlord. Our business is in chemicals."
Rhodia hired Equis Corp. to conduct its site search, which also included locations in Texas, Georgia and North Carolina. Considerations during the search included a need for access to research scientists and proximity to airports with direct flights to Paris.
"We didn't focus initially on New Jersey for our headquarters, but it was always a strong option for us. When we measured everything, including the amenities, we just felt it was a superior choice. It meant our folks didn't have to drive further since it was about two miles [3.2 km.] from our previous location. The building Equis found for us allowed us to right size our operation. We were very interested in benchmarking to industry standards."
Petrie says after the decision was made to stay within a 50-mile [81-km.] radius, about 50 buildings were considered. He says the search for the right location for the research center, which found a home in
Bristol, Pa., about 25 miles (40 km.) from Cranbury, was a considerably tougher job. But Rhodia never experiences separation anxiety when it comes to siting office buildings and lab space, he says.
"From a global standpoint, our research centers are not always with a local headquarters," says Petrie. "Sometimes we have them located close, but not as part of the same complex."
R&D was located in Rhodia's former headquarters, but Petrie says it became apparent early in the search that that this scenario would not be possible without outfitting a shell building, an expensive proposition.
"Most of the buildings we looked at in New Jersey were not designed for the type of chemistry we do, which is a lot of wet chemistry," Petrie says. "We saw some we could modify, but it just happened that in Bristol we found a former laboratory of late 1990s construction. It's state-of-the-art in economic design. It wasn't ready to move in, but it required very little modification to move in and was similar to the lab we had. It was just a very fortuitous location and the rent certainly is reasonable."
Rhodia's primary use of laboratories in the U.S. is to support its Novecare business, which develops additives for a variety of personal care products. Petrie says an East Coast location is conducive to finding its R&D staff.
"It makes a difference in our selection," he says. "Most of our people are PhD chemists and not easily replaced. Had we moved much farther away, there would have been a considerable number of people who wouldn't have moved with us and it would have been difficult for our business,"
Rhodia moved into both buildings in December 2005, with 340 people in the new 90,000-sq.-ft (8,300-sq.-m.) headquarters and 110 at the 72,000-sq.-ft. (6,700-sq.-m.) R&D site. Rhodia's previous facility was 400,000 sq. ft. (37,000 sq. m.).