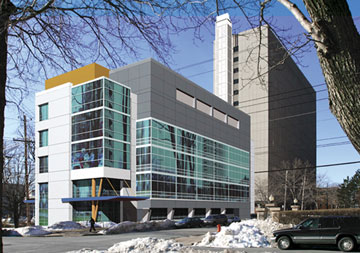 The proposed Life Sciences Research Institute at Dalhousie University in Halifax, Nova Scotia, would only add to the momentum the sector has already achieved in the province, where life sciences employment growth outpaced Canada's more than fivefold between 1999 and 2002.
Nova Scotia Eyes Research Center
Life sciences R&D projects are also alive and well in the far eastern reaches of North America. Dalhousie University in Halifax, Nova Scotia, along with two healthcare providers, Capital Health and IWK Health Center, plan a US$29.7 million Life Sciences Research Institute (LSRI).
Lead tenant will be the Brain Repair Centre, a renowned collaboration of researchers dedicated to finding treatments for brain and nervous system disorders. A construction date for the LSRI is pending further fund raising.
The LSRI will add to Nova Scotia's thriving life sciences cluster, which currently invests nearly US$90 million annually in research and has more than 60 core companies. About 75 percent of these companies are in the greater Halifax area.
"We're in the early design phase and identifying some missing pieces of finance and then we'll be ready to rock and roll," says Dr. Gerald Johnston, associate dean for research for the Dalhousie faculty of medicine. "Our intent is to create a building where research groups can have contiguous space, work in collaboration and also bring them into contact with commercial ventures."
Johnston says he hopes the project, which will take about a year for construction, will be under way later this year.
"It's such a compelling project and will have huge economic benefit. The knowledge sector in this part of the world is quite a significant economic player in terms of the money it brings in, the training of highly qualified personnel and the commerce that spins off."
Johnston says the need for such research space is huge since the area has not had a renewal of its physical space for some time. He says one of the purposes of LSRI is to optimize ongoing ventures already embedded in participating research groups.