hronicling major multinational corporate site selection affords us a glimpse into some of the most competitive companies on the planet. As our project case studies and interviews throughout the year bear out, the territories that seek their investments also know how to compete at a high level.
In choosing our Top Deals, we start with objective jobs and investment data: total capital investment and number of jobs created. Then we take into account regional economic impact, value of jobs created, the role of incentives, creativity, competition for the project and speed to market.
Whether blockbuster or the latest increment, the best deals involve an explicit and multifaceted sense of commitment from all parties, reinforcing the message that company and community strategies are bound at the hip.
Below, in alphabetical order by company, we present our Top 10 and Honorable Mention selections under the categories of North America and International. But they all possess the same attribute: The drive to get deals done, so people can move on and get business done.
Top Deals of 2006
---
Advanced Micro Devices
Malta, New York
$3.2 billion, 1,206 jobs
fter falling just short in competing with Austin, Texas, for Samsung's vaunted $4- billion chip fab investment, New York
won the AMD sweepstakes
in June, using US$1.2 billion in incentives ($650 million in cash) to lure a 1.2- billion- sq.- ft. (111,480- sq.- m.) chip fab to the Luther Forest Technology Campus site in Malta, just outside Saratoga Springs. Included in that package is a 28- mile (45- km.) pipeline from the Hudson River. The 650- acre (260- hectare) site was made more attractive by the purchase of 1,186 acres (480 hectares) adjacent to the central 164 acres (66 hectares) that the Luther Forest Technology Campus Economic Development Corp., a subsidiary of Saratoga Economic Development Corp., already owned. The purchase was helped by a recent $4.8- million state grant.
Also helping the company decide on the Upstate over Dresden, Germany; Singapore and Austin, Texas, were its ties to IBM and the International Sematech consortium, both of which are firmly embedded in the Empire State's semiconductor landscape. AMD made its decision less than three months after its initial visit to the site. At full operation, the fab will bring New York $220.4 million annually in economic benefits, including income and tax revenue. In addition to the employment of 6,000 workers during its construction, the plant's 1,200 new employees will boast an average annual income of $80,000.
---
Amgen
Juncos, Puerto Rico
$1 billion, 500 jobs
abrizio Bonanni, Amgen's senior vice president, manufacturing, said in February 2006 that Puerto Rico's attractive business climate and strong commitment to developing biotechnology manufacturing capability were key factors in the decision to
expand operations at its biologics manufacturing complex in Juncos
.
That commitment was demonstrated by the formation of the Puerto Rico Science and Technology Trust and establishment of biotechnology manufacturing programs at University of Puerto Rico Mayaguez and elsewhere. Coming one week after the company's announcement of a new complex in Cork, Ireland (see below), the investment is backed by multifaceted R&D expansion as well, at five sites stretching from San Francisco, Calif., to both Cambridges – in Massachusetts and in the U.K.
---
Bristol- Myers Squibb
Devens, Mass.
$1.1 billion, 550 jobs
ike fellow biologics firm Amgen, BMS is expanding on multiple fronts, including its own $200- million Puerto Rican expansion as well as R&D investment in India. But the highlight of its project list for 2006 was
this investment on a former military base in Devens, Mass.
The scope of the site selection began worldwide, and narrowed to finalist sites that included Sanford, N.C., Clay, N.Y. (outside Syracuse, where the company's biologics center of excellence is based) and fellow BRAC site Quonset in Rhode Island. Up to $64 million in tax and infrastructure incentives were put on the table, but other crucial elements to this decision were speedy permitting and land acquisition and proximity to the Boston- area talent base in the life sciences. (See p. 452.)
---
Fidelity Investments
Raleigh, N.C.
$100 million, 2,000 jobs
ecognized in this space last year for its $120- million investment in Covington, Ky., Fidelity continues to literally spread the wealth. Its five U.S. investments over the past two years include
this project announced in summer 2006
, as the firm seeks to diversify geographically from its Massachusetts base. The $69 million in incentives offered to Fidelity not only help create 2,000 new jobs, but save 1,000 existing jobs at its Research Triangle Park campus.
Among the measures undertaken to attract the project was the complete cessation of work on I- 540 construction while Fidelity's president visited the site. Most of Fidelity's subsidies will come from a $54.6- million, 12- year Job Development Investment Grant (JDIG) – the largest that the Tarheel State has ever awarded to a single company. But as with BMS, access to talent and universities was also essential to the deal: Average salaries of new hires will be nearly $60,000.
---
| | |
| --- | --- |
| | Michigan Governor Jennifer Granholm tours the Ford stand at the NAIAS with Peter Horbury, executive director of design, North America. Ford is investing $866 million in six southeastern Michigan plants, with $130 million investment for tooling and equipment to build the all- new Focus at the Wayne Stamping and Assembly Plant. Pictured left to right: Michigan Governor Jennifer Granholm, Ziad S. Ojakli, Group Vice President Corporate affairs, Ford Motor Co. and Peter Horbury, Executive Director of Design, North America, Ford Motor Co. |
Ford Motor Co.
Nine sites in Michigan
Over 56,000 jobs saved
he incentive package for this deal became public in August, as the State of Michigan laid it on the line with one of its cornerstone employers. The incentive package includes $151 million in Single Business Tax abatements from the Michigan Economic Growth Authority. Usually available only to projects creating new jobs, the credits become available to projects retaining jobs once the investment level reaches $250 million. In addition, if the nine host communities approve the expected 12- year tax abatements worth some $118 million, the state will likewise abate for 12 years its six- mill state education tax, at an estimated value of $30.7 million.
---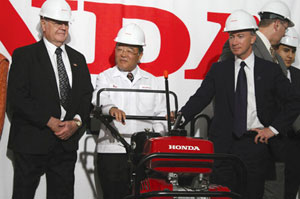 On March 19, 2007, Indiana Gov. Mitch Daniels (right), Honda executives and local officials participated in the ceremonial groundbreaking for the Greensburg Honda facility. Honda announced at the groundbreaking its plans to produce 200,000 Civic sedans a year making the Greensburg plant the fourth Civic assembly line in North America.
Honda
Greensburg, Indiana
$550 million, 2,000 jobs
s
Indiana Gov. Mitch Daniels told Site Selection
, regional partnership was key to attracting this headliner project – including the pledge of $10 million in gaming- generated funds from Lawrenceburg, just under an hour to the east. Daniels' $12- billion "Major Moves" transportation initiative was one important factor in the site selection, as was the state's recent move to single- sales- factor corporate taxation from its former three- part basis. Daniels was careful to point out that the state's direct incentive offer to Honda came to around $80 million. Adding in additional infrastructure investments brings the total to approximately $141 million. The state is seeing unprecedented investment from Japanese companies, including Toyota's decision earlier in 2006 to pursue Camry assembly at partner Subaru's plant in Lafayette, creating 1,000 jobs.
---
Kia Motors
West Point, Ga.
$1.2 billion, 2,500 jobs
3,300- acre (1,336- hectare)
site in West Point
, near the Alabama state line, beat out other sites in Mississippi for Kia's first North American assembly complex (Mississippi received its own investment of exactly the same amount in March 2007). The State of Georgia's portion of Kia's nearly $400- million incentive package comes to $248 million, including an on- site $20.2 million training center, $130 million in property tax abatements over 15 years from the City of West Point and Troup County,
and a new Interstate interchange and access road costing $30 million. Perhaps most impressive: A total of 37 parcels belonging to 30 different owners were put under option by the state in approximately two months, ending in February.
Samsung
Austin, Texas
$4 billion, 900 jobs
ocal economic developers worked with the State of Texas long and hard to snare
this 300- mm chip fab investment
by Samsung Austin Semiconductor (SAS), beginning when Opportunity Austin identified barriers to growth for Samsung during a November 2004 retention and expansion visit with executives. The original plant, opened in 1997, employs 1,100. Austin beat out sites in New York, China and South Korea for the project, helped by $233 million in incentives and in- kind investments, even though New York's package was more than twice that amount. A key part of the package was $115 million from the Manor Independent School District. The new plant will be between three and four times larger than SAS's existing facility, and new jobs will boast an average salary of $70,000. AMD, though it chose New York for its chip fab, also still has Austin on its mind, pursuing a $200- million expansion of its operation there. In the meantime, the Austin City Council is mulling a decrease in electric utility rates for big users like chip firms and data centers.
United Solar Ovonic
Greenville, Michigan
$256 million, 200 jobs
reenville, Mich., after seeing refrigerator maker Electrolux high- tail it for other territories, picked itself up and welcomed thin- film amorphous photovoltaic material manufacturer United Solar Ovonic to town in March, when it
announced a $136- million, 200- worker plant
. The company, a wholly owned subsidiary of Energy Conversion Devices, Inc., immediately followed up its announcement with a second plant worth $120 million, announced in September. Meanwhile, a new plant with half the capacity of each of the Greenville plants is on the way to Auburn Hills, Mich., where ECD already operates its signature facility. While the announced plants take the company's production capacity to 178 MW by the end of 2008, its growth plan calls for over 300 MW of capacity by the end of 2010.
UPS Airlines WorldPort
Louisville, Ky.
$1 billion, 1,284 jobs
rofiled in our
September 2006 Logistics Industry report
, the huge WorldPort expansion wasn't necessarily Louisville's from the beginning. Central to the Kentucky proposition was the continued growth and support of the Metropolitan College concept, whereby the University of Louisville and the Jefferson Community and Technical College system have partnered with UPS in a program that pays full tuition for students who work at the hub at night and attend specially scheduled classes by day. That system featured about 1,700 students in summer 2006 – the state expects up to 2,200 more by 2010. UPS received preliminary approval in May for $31.6 million in state and local tax incentives for up to 10 years.
In addition, UPS was slated to receive $20 million in state sales and use tax refunds through the Kentucky Enterprise Initiative Act, created through Gov. Ernie Fletcher's tax modernization plan and passed by the 2005 General Assembly. Also among the factors aiding the expansion is the steady land banking over the years by the Louisville Regional Airport Authority. In addition to the full- time jobs, some 3,787 part- time jobs will be created, as the facility expands its sorting capacity by 60 percent over the next five years.
Top Deals of 2006
---
Amgen
Cork, Ireland
$1 billion, 1,100 jobs
ndy Skibo, Amgen's vice president, corporate engineering and capital projects,
told Site Selection
that outside consultants brought Amgen a list of more than 20 countries for this new campus of process development, bulk manufacturing and fill and finish facilities. The internal team at Amgen then quickly narrowed the field to Switzerland, Singapore and Ireland, with Ireland narrowly beating out Switzerland in the final analysis. Chief among Amgen's criteria was the availability of skilled labor to both build and staff the campus, as it looks to be fully operational within the rapid time frame of three and a half years.The scope of the new campus will be similar to that of Amgen's other Top Deal of 2006, the complex in Juncos, Puerto Rico. In fact, the company used photos from Juncos as it negotiated toward a site, with its projected scale helping to winnow out candidates and point the company toward Cork. In April the company announced a delay in the project, but no reduction in scope or hiring plans. Amgen spokesperson Anne McNickle says the project's initial timelines were "extremely aggressive. We found we had an opportunity for more flexibility in that timeline, so we're going to adhere to a more traditional sequenced buildup of the Ireland facility."
---
| | |
| --- | --- |
| | |
At Bosch in Reutlingen, application- specific components are currently manufactured on 150 millimeter- diameter silicon wafers. The company is planning to build a new 200- millimeter (eight- inch) semiconductor manufacturing facility in Reutlingen, above, where three sites already employ some 7,000 associates.
Bosch Group
Reutlingen, Germany
$695 million, 800 jobs
his automotive semiconductor project will see Bosch construct a 200- mm fab at the company's automotive electronics home base in Reutlingen, where the company's three sites – Tübinger Strasse, Kusterdingen, and Rommelsbach – already employ about 7,000 associates, including 240 apprentices pursuing technical- industrial and commercial training.
"In investing heavily in state- of- the- art manufacturing technology, we are securing the long- term future of our international automotive electronics business," said Franz Fehrenbach, chairman of the Bosch Board of Management. Having made 150- mm. (six- inch) semiconductors in Reutlingen for 10 years, the company stated that "the location can therefore draw on a wealth of expertise and has a good infrastructure." Reutlingen plays a major role for Bosch as a pilot plant for innovations. Some of the sensors eventually made at the new fab may be for use in cell phones, game consoles and other hand- held devices, in addition to automobiles. Reutlingen is located in Baden- Wurttemberg, in Germany's southwest corner. Its mayor's name? Barbara Bosch.
---
Dell
Lodz, Poland
$266 million, 1,000 jobs
ocated in a newly created Special Economic Zone and receiving support from the Polish Information and Foreign Investment Agency (PAIZ), this plant is expected to open in the second half of 2007, and will eventually employ close to 3,000 people in the manufacture of laptops and servers.
Dell said the plant
will be located within a 311- mile (500- km.) radius of a Central and European IT market that is expected to grow by 13.9 per cent annually during the next five years. Once the new facility is operational, Dell's Central, Nordic and Eastern European customers can expect a reduction of at least two days over the current system delivery times.
"Proximity to a large base of Dell customers, the significant opportunity for growth promised by the Central and Eastern European economies, and the availability of a well- educated Polish work force were key factors in our decision," said Paul Bell, Senior Vice President, Dell EMEA. The facility will work closely with the firm's successful plant in Limerick, Ireland, where many Polish workers were queried as to their desire to return to their home country.
---
EADS
India
$2.6 billion, 2,000 jobs
ndia
is a priority country for EADS
, as it offers market potential and solid aerospace and defense competencies," said Tom Enders, CEO of European Aeronautic Defense and Space Co., in late August. Earlier in the year, the company
Hyundai's $1.1-billion investment in a plant in the Czech Republic is becoming more real by the day, as the above film footage of its April 2007 groundbreaking attests.
had created EADS India Private Ltd., a subsidiary 100- percent owned by its European parent firm. The growth will initially take the shape of two centers in Bengalooru (formerly Bangalore): EADS Technology Center India, focused on engineering and IT services, and Engineering Center Airbus India, focused on high- end engineering analysis and design.
EADS also is opening an Indian sourcing operation, with branches in both Bengalooru and New Delhi. Last year, Airbus sold 229 passenger planes to Indian companies. Airbus maintains strong business relationships with Indian multinationals such as Tata, Wipro and Infosys. In February 2007, Airbus subsidiary ATR announced a new joint training center for pilots with Indian carrier Air Deccan.
Intel
Ho Chi Minh City, Vietnam
$1 billion, 1,200 jobs
ntel's investment stands out as
the first semiconductor industry project in Vietnam
, after receiving an investment license from the country's Ministry of Investment and Planning. "We applaud the progress the country has made in building up their technology infrastructure and the support of education programs to advance the capabilities of the local work force," said Intel Chairman Craig Barrett in February 2006 as the company announced plans for a 150,000- sq.- ft. (13,935- sq.- m.) complex. "Intel looks forward to working with the government and public sector in Vietnam to grow their technology capabilities and competitiveness."
That work happened fast: By November, the investment had blossomed from $300 million to $1 billion, as the company had determined that 500,000 sq. ft. (46,450 sq. m.) was the optimum size for an assembly and test facility. "Intel has enjoyed a strong, constructive working relationship with the Vietnam government, both at the local and national levels," said Rick Howarth, general manager of Intel Products Vietnam. "We were very pleased that the discussions with the local authorities went smoothly so we could significantly expand the facility's size."
Kedah Wafer Emas
Nizhny Novgorod, Russia
$1.2 billion
alaysian firm Kedah Wafer Emas, known for its work producing the Bluetooth module as well as other semiconductor, electronic and multimedia products, announced in October it would make the investment at its Frunze plant, after the governor of the Nizhny Novgorod region, Valeriy Shantsev, met company representatives. The same region was in the running for an assembly plant from PSA Peugeot Citroen, after also being looked at by Toyota and Nissan. Solar batteries and microelectronic devices for the automotive industry will be manufactured at the plant. The company expects to achieve full capacity at the facility by the end of 2009. The company's primary target markets are China, Taiwan, Japan, Korea, Hong Kong, Vietnam, Singapore, Malaysia and India.
Magna/OAO Avtovaz
Togliatti, Russia
$1.7 billion
ith a capacity of 450,000 vehicles a year, the new joint venture plant will produce three primary models, with the potential for 10 more models on the horizon. The plant is just the latest in a wave of automotive facilities to strike Russia, including Volkswagen's in Kaluga. Magna and OAO Avtovaz signed a framework cooperation agreement in December. While its exact role in the operation is still under negotiation, Magna may decide to be fully invested in full vehicle assembly, which it now does only at its facility in Graz, Austria. The company is also pursuing a JV in the emerging market of India. Outside of North America and Europe, the company saw "rest of world" production sales double between 2004 and 2006.
Saudi Aramco/Dow Chemical
Ras Tanura, Dammam, Saudi Arabia
$15 billion
hile the final joint venture company has not been formally finalized, Saudi Aramco announced in July that Dow would be its exclusive negotiating partner for a JV to construct, own and operate a world- scale chemicals and plastics production complex at Ras Tanura, in Saudi Arabia's Eastern Province. The complex would be integrated with the existing Ras Tanura refinery complex, one of the world's largest, and start initial production in early 2012.
"The joint venture would produce an extensive and diversified slate of chemicals, and introduce new value chains and specialty products to the Kingdom," read a Saudi Aramco release. "The availability of these chemicals in the Kingdom would facilitate the development of downstream conversion industries and the further industrialization of the Kingdom." The company is pursuing a similar $10- billion JV with Sumitomo Chemical at its refinery in Rabigh, expected to reach its initial phases in late 2008.
---
Seagate Technology
Johor, Malaysia and Singapore
$1.2 billion, 3,500 jobs
hough technically two deals, this multifaceted expansion by the California- based hard disc drive maker makes a singular regional impression. In Johor, the company is investing $434 million in a media substrate plant that will eventually employ 2,500 people in the production of aluminum substrate.
"Johor offers a lot to Seagate, including available land, utilities and a collaborative partnership with federal and state governments," Seagate CEO William Watkins told reporters. The region is targeting the logistics and manufacturing sectors, capitalizing on its port. Meanwhile, the company's $819- million investment at its Woodlands complex in Singapore will create another 1,000 jobs, with growth plans calling for an eventual 3,000 new jobs. It's just part of $1.3 billion in ongoing investments in the city- state, which the firm refers to as its central media manufacturing hub. "We will continue to make strategic investments in Singapore by leveraging established infrastructure and tapping the exceptional pool of technological and human resources this island- nation has to offer," said Watkins. The company was awarded the 2006 Singapore Manufacturing Excellence Award by Singapore's Economic Development Board in cooperation with McKinsey & Co. and the Singapore- MIT Alliance.
---
ThyssenKrupp
Sepetiba, Brazil
$2.4 billion, 3,000 jobs
preview of a new project slated to arrive soon in the southeastern U.S., this
steel mill in the Brazilian state of Rio de Janeiro
was approved by the supervisory board of ThyssenKrupp AG in May 2006, with production scheduled to begin in early 2009. "The supply of low- cost, high- quality slabs from Brazil will allow us to harness growth opportunities in our core European market and in the NAFTA region," said Dr. Ekkehard Schulz, chairman of the executive board of ThyssenKrupp AG. "Our objective is to position ourselves globally in the market for high- quality flat carbon steel." Up to 40 percent of the Brazilian mill's output will go to the company's German processing facilities, which are being expanded to eliminate bottlenecks.